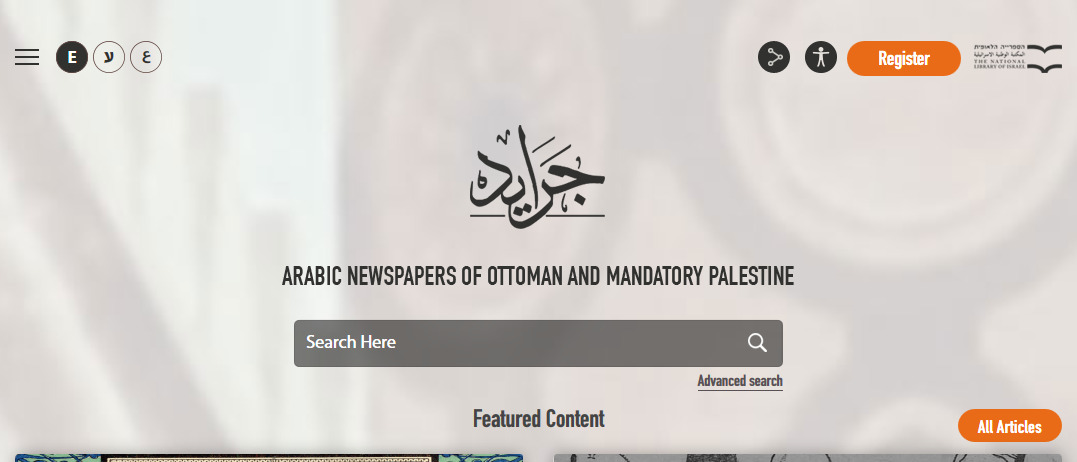 جرائد [Jara'id] is a database of Palestinian newspapers published between 1908 and 1948. This initiative, led by the National Library of Israel, consists in digitizing periodicals from its collections to make them widely available. If the first phase of the project focused on two date ranges: 1908-1920 and 1945-1948 -which explains why only a few years are currently accessible for some titles- but the goal is to continue digitizing in order to provide an exhaustive archive of the Ottoman and mandatory Palestine period.
The database currently gives access to 27 titles published in Jaffa, Jerusalem, Haifa, Bir Zeit, and other places. Among those, the visitor will find al-Nafais al-asriyah which is available from year 1908 to 1924, or Mir'at al-Sharq which is available from years 1919 to 1939. The viewer has interesting features:
a menu on the left hand-side of the screen to navigate journals and issues
two sets of arrows allowing to go from issue to issue, and to turn pages
a thumbnails view
the possibility to zoom in and out
a series of buttons to share (Twitter and Facebook), print, mail, download (in PDF), pin, link to a specific journal.
The website is trilingual: Arabic, English, Hebrew.