Started in the 1990's, Dreams of a Nation is a Columbia University based archival project aiming at preserving and promoting Palestinian cinema. If the initial collection was only composed of films screened in courses taught at Columbia on Middle Eastern cinema, it has now grown to include hundreds of films, carefully described and indexed on the Dreams of a Nation website. Dreams of a Nation archive and database in this website were sponsored by Columbia University Middle East Institute, and facilitated by dedicated librarians. The website is now maintained by the Center for Palestine Studies at Columbia University.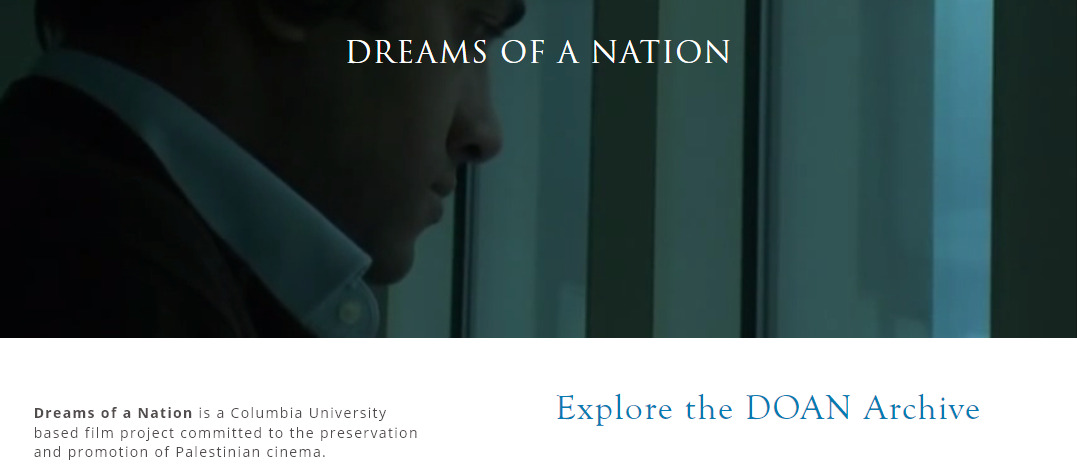 The DOAN archive can easily be explored by filmmakers or by titles indexed in alphabetical order.
Dreams of a Nation resulted in the organization of two Palestinian film festivals held in 2003 and 2204, and the publication of a book entitled Dreams of a Nation: On Palestinian Cinema authored by Dr. Hamid Dabashi (Verso, 2006).
As described by Dr Hamid Dabashi, Dreams of a Nation is a work in progress "committed to two principle objectives:
expanding and preserving our archive with the goal of making it the largest collection of Palestinian cinema possible–feature, short, and documentary–and (2)
providing a solid database documenting Palestinian cinema for contemporary use and for the posterity."