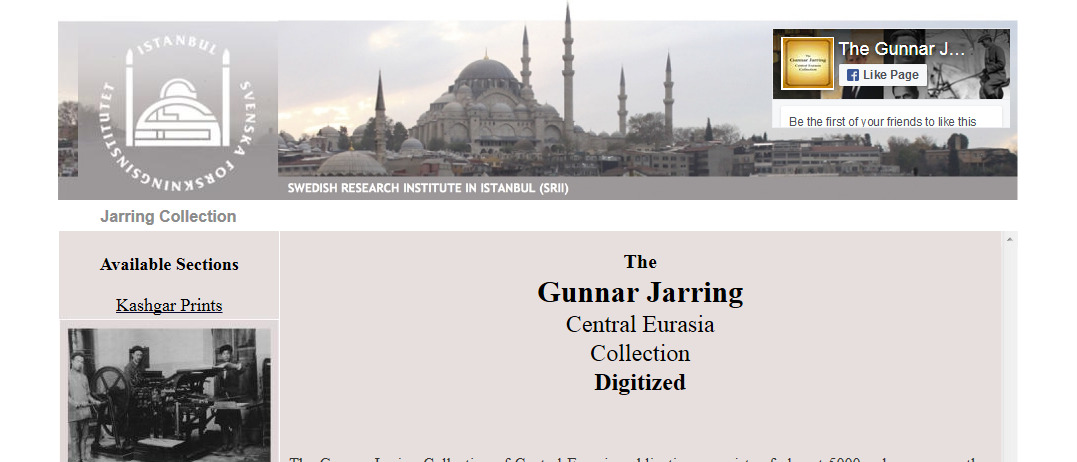 The Gunnar Jarring (1907–2002) Collection of Central Eurasia publications consists of approximately 5,000 volumes including printed books from the 19th and 20th centuries, manuscripts, catalogues, and maps. The collection also counts more than 3,000 offprints, most of which signed by their authors with dedication inscriptions to their colleague and friend, Ambassador or Professor Jarring. Besides the travelogues and related literature, linguistic treatises and dictionaries for a great number of languages can be found in the collection, as well as books on history, religion, literature and several other disciplines.
The Gunnar Jarring Central Eurasia Collection is part of a digitization project initially funded by the Swedish foundation Riksbankens Jubileumsfond (2011–2014), conducted in cooperation with the Sven Hedin Foundation at the Royal Swedish Academy of Sciences, and at a global level with the International Dunhuang Project (IDP) which is a network coordinating databases for collections from the Eastern Silk Road. Rare and fragile manuscripts and printed matters as well as other objects, such as photos, maps and drawings in the Jarring Collection at the Swedish Research Institute in Istanbul (SRII) have been digitized for storage and presented on this website.
Parallel to his career as a top diplomat in the Swedish Foreign Ministry, Gunnar Jarring (1907–2002) entertained a life-long academic career devoted to the Turkic world in general and Eastern Turkestan in particular. A large part of his own private library consisted of publications on Central Eurasia, both from the region itself and from other parts of the world, not least the former Soviet Union, where Jarring was Ambassador from 1964 to 1973. All of the most well-known accounts of expeditions to Inner Asia can be found in this collection along with a great number of less known accounts, some of which are very rare and accessible at just a few or perhaps even no other libraries in the world.
So far, two parts of the collection have been digitized, and are continuously updated:
If the materials are in numerous languages, the website is in English.