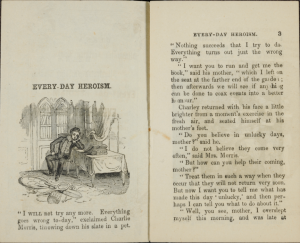 Charley is having a rotten day, behind in his work, it's a subject he hates, it's all due tomorrow, and is in a foul mood about the situation. We've all been there. Here's a motivational speech from Every-day Heroism about a mother trying to inspire her son to finish his schoolwork through the example of historical conquerors:
" I cannot do them ; it is no used trying to do anything on such days."
There was a pause of a few moments, and then his mother said :
" Charley, you like to read the histories of great soldiers and heroes of old times, such as Alexander, and Caesar, and Napoleon?"
" Yes, mother, very much."
" Well, tell me, when do you like Alexander best — feasting at Babylon or in action, commanding his army, attacking the enemy, and gaining victories ?"
" I like him best in action, mother, of course."
" True, we like bravery better than cowardice. When do you like best to read of Napoleon — imprisoned at St. Helena, or at the beginning of his course with difficulties around him, but rising above them all by his strength of will ?"
" Oh, I like him best in the beginning, mother," said Charley, with kindled enthusiasm.
" But," said Mrs. Morris, " suppose he could have marched by a smooth road, straight from France to Italy."
" Why, he would not have been a hero at all, if he had not something to conquer."
"And the will to conquer it," added Mrs. Morris with a smile. " That is just what I want you to notice. We cannot imitate, if we would, the precise actions of these great conquerors; but we can copy their energy and strength of purpose, and our daily life furnishes opportunities to cultivate these qualities."
" I do not see how, mother."
" The life of a little school-boy presents some difficulties — does it not, Charley ?"
" Yes, mother," he replied, glancing ruefully at his Arithmetic.
Then there is something to conquer, and in the conquest you can grow strong and brave. Like Napoleon you can never be a hero, unless you have some obstacles to overcome."
In summary: STRIVE FOR GREATNESS! BE A HERO! CONQUER EVERYTHING IN YOU PATH, EVEN IF IT'S MATH HOMEWORK!