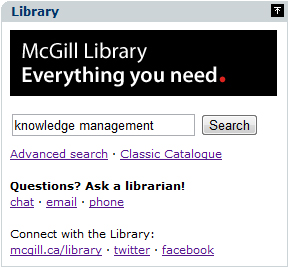 We recently rolled out an updated version of the Library portal widget which you can access through the McGill portal.
Features of the widget include:
Updated header graphic to match Library branding
Polish on spacing and placement of elements
Search WorldCat Local directly through search box
Links to WorldCat Local advanced search and Classic Catalogue
Links to chat, email, and phone support
Links to Library home page
Links to Library Twitter and Facebook pages
Our goal was to try to put the most useful information front and center without overloading the interface. If you have any suggestions on how we can improve our presence on the McGill portal, please let me know!