Posts by :
March 30th, 2017

Guest post by Annelise Dowd. Annelise is a McGill University Master of Information Studies student who has been doing a practicum project working with the Student Publication Collection.

---

Public Address was a weekly student paper first published in 1966. The paper was intended to be the vocal arm of the McGill Students Society, aiming to clarify "misconceptions" about student government. These supposed misunderstandings were largely due to the criticism the student society faced in the late sixties from The McGill Daily. In 1968 the paper changed format, and focused less on the contention between student government and the student body. This revised format of the paper soon ceased publication however, with only six issues produced.

13 "First " Public Address issues

v.1:no.1(1966:Feb.25)
v.1:no.2(1966:Feb.28)
v.1:no.3(1966:Mar.16)
(1966:Oct.26)
(1966:Nov.9)
(1966:Nov.21)
(1966:Dec.7)
(1967:Jan.25)
(1967:Feb.6)
(1967:Sep.29)
(1966:Oct.13)
(1967:Oct.19)
(1967:Nov.9)

6 "Updated" Public Address issues
v.1:no.1(1968:Jan.17)
v.1:no.2(1968:Jan.24)
v.1:no.3(1968:Jan.31)
v.1:no.4(1968:Feb.07)
v.1:no.5(1968:Feb.14)
v.1:no.6(1968:Feb.21)

March 9th, 2017

From Rare Books & Special Collections – Colgate Collection. Colgate Dwiggins Coll. I.

Addressed to Major M. Baker, New Jersey.

March 3rd, 2017

Water level and weather data for the Ganges River region : a collection of six records. Authored by Captain Lachaln, Major Parlby and James Kyd. 1809-1822. Rare Books & Special Collections – Blacker-Wood Manuscripts. folio GB1339 W38 1809

From the cataloguing record: Six records, largely in tabular form, sewn together into plain brown card covers with paper cover label bearing a summary of contents; provenance bookplate of Natural History Society of Montreal

Contents:

Memoir, of observations of the progressive rise of the waters of the Ganges at Ghazipore during the rainy season of 1815 / by Capt. Lachlan —
Diary of the daily … rise & fall of the Ganges … from 1815 to 1822 both years inclusive / by Major Parlby ; with notes by Capt. Lachlan —
Comparative view of the rise & fall of the Bhagruttu & Ganges daily … [1809-1811] –
Rise & fall of the Baugrutty commencing 1st January 1822 / by Major Parlby —
Tide table of January and February 1815[-November and December 1820] kept … near Calcutta / by James Kyd —
Weather, Kedgeree, Diamond Harbour, 1819[-1820].

Other titles:

Memoir, of observations of the progressive rise of the waters of the Ganges at Ghazipore during the rainy season of 1815 / by Capt. Lachlan —
Diary of the daily … rise & fall of the Ganges … from 1815 to 1822 both years inclusive / by Major Parlby ; with notes by Capt. Lachlan —

February 22nd, 2017

141 issues of the The Civilian : a fortnightly journal devoted to the interests of the Civil Service of Canada from March 1913 to November 1920 are now available through our library catalogue and the internet archive.

From the cataloguing notes: The postal journal, for a time numbered separately, appeared as part of the Civilian. It was "edited under the auspices of the Postal Clerks' Association of the Dominion of Canada". Latterly it was superseded by a column entitled "Postal notes." Official publication of the Civil Service Federation of Canada, 1917-July 1920; of the Associated Federal Employees of Ottawa, Aug. 1920-1921. Established and edited by Frank Grierson, May 1908-Mar. 1920.

February 15th, 2017

We are please to announced we've partnered with Medical Heritage Library and joined some of the world's leading medical libraries in making our digitized content available in their collaborative digital library. One of the biggest advantages of these aggregate digital libraries is not only being able to do a full text search across multiple collections at a time but you can also download the records in JSON, XML and CSV format.

We've submitted our first batch of material from our Osler Library of the History of Medicine collection which includes 37 handwritten notebooks from Sir William Olser, Clare Gass's diary from 1915-1916 and various Arabic and Persian medicinal texts such as this 11th century ophthalmology text.

February 8th, 2017

#ColorOurCollections / #ColourOurCollections week is back from February 6 to 10, 2017! We had so much fun with this campaign last year we couldn't wait to put out some new pages.

This year we've created three pages for you to download and colour.
When you've finished your masterpiece we encourage you to share them on social media using the event hashtag #ColorOurCollections or tag us on twitter @McGillLib. It's been fun seeing what everyone comes up with!
#ColorOurCollections was a campaign spearheaded last year by by the New York Academy of Medicine (NYAM), the New York Public Library (NYPL), the Smithsonian Libraries and the Biodiversity Heritage Library.
February 7th, 2017
From the cataloguing notes: Marie-Angélique Birranger was the wife of Henri Desrivières (1804-1865), the son of François Amable Desrivières (1764-1830), principal heir of James McGill. Henri Desrivières was a seigneur of Montarville and a political figure in Canada Est who represented Verchères in the Legislative Assembly of the Province of Canada in 1841.
The diary describes social, family and economic life in Montreal and Stanbridge, Québec from 1843 to 1872. There are also many comments about the weather and the author's health. Written in a legible but rather careless hand in black ink on ruled pages; unused pages at back of notebook have been torn out.
Read them all online:
[Journal, 1853].
[Journal, 1864-1865].
January 23rd, 2017
By Alex Kohn, Head of the Copyright Office
This week we are pleased to bring you this fully digitized copy of Evelyn Waugh's famed 1945 novel Brideshead revisited.
We selected this volume for digitization in honour of Public Domain Day, which took place on the first day of this month. In Canada (and a host of other countries) copyright in a published work expires 50 years from the end of the calendar year in which its creator died. As such, on January 1st, 2017, published works by artists, writers and other creators who died in 1966, like Evelyn Waugh, legally entered the public domain. In countries with a "life +70 years" term of copyright, including Australia, Russian and much of the Europe Union, the works of authors who died in 1946 are now in the public domain. The U.S. too, has a "life + 70 years" copyright term, but due to copyright extension legislation, no published works will be entering the public domain on January 1st until at least 2019.
Once copyright has expired, neither permission nor payment are required to copy, distribute, modify or incorporate these works into new creative or intellectual works or make them available to the public in Canada.
The print copy of the novel is held in McGill Library's Rare Books and Special Collections, a gift of the estate of Louis Dudek, poet, essayist, critic, and editor. Dudek (1918 – 2001) completed his studies at McGill and Columbia before joining the McGill Faculty of English in the 1950s as professor of modern poetry. The Louis Dudek Collection includes more than 6,000 titles, available for consultation in our reading room during opening hours.
McGill Library has an active digitization program  and makes every effort to open up our rare and unique collections to the world by putting them online for everyone. A warm thank you to Jennifer Garland, Rare Books and Special Collections librarian and Greg Houston, Digitization and New Media Administrator for helping with this small project.
April 13th, 2016
83 issues of the The Favorite: A journal of amusing and useful reading published by George Edouard Desbarats (Montreal) from 1873-1874 are now available for reading and download on the Internet Archive.
Copy in McGill Library's Rare Books and Special Collections: set half-bound in red morocco with marbled paper over boards(worn; corners bumped); smooth spine with 6 triple fillet bands in gilt and binders title; red sprinkled edges
January 21st, 2016
This week we went downstairs to the main floor of Redpath Library to play with the new visualization wall which is made up of eight 55-inch screens in the Research Commons. The first thing we wanted to see was how some of our digitized images looked up on the big wall. First we pulled up an a miniature (~ 2″ x 3″) from one of our Book of Hours (MS 102) we recently digitize to support a collaborative research project in medieval manuscripts housed in Rare Books and Special Collections. Even blown up so that one square centimetre covered four of the screens the image was crystal clear.
Next we pulled up the high resolution image of
Lincoln's original draft order for troops
signed in 1863 to see details in the ink from Abraham Lincoln's signature. The level of detail that can be pulled up on these images is exciting! We can't wait to invite the research teams down to see what can be seen with these screens.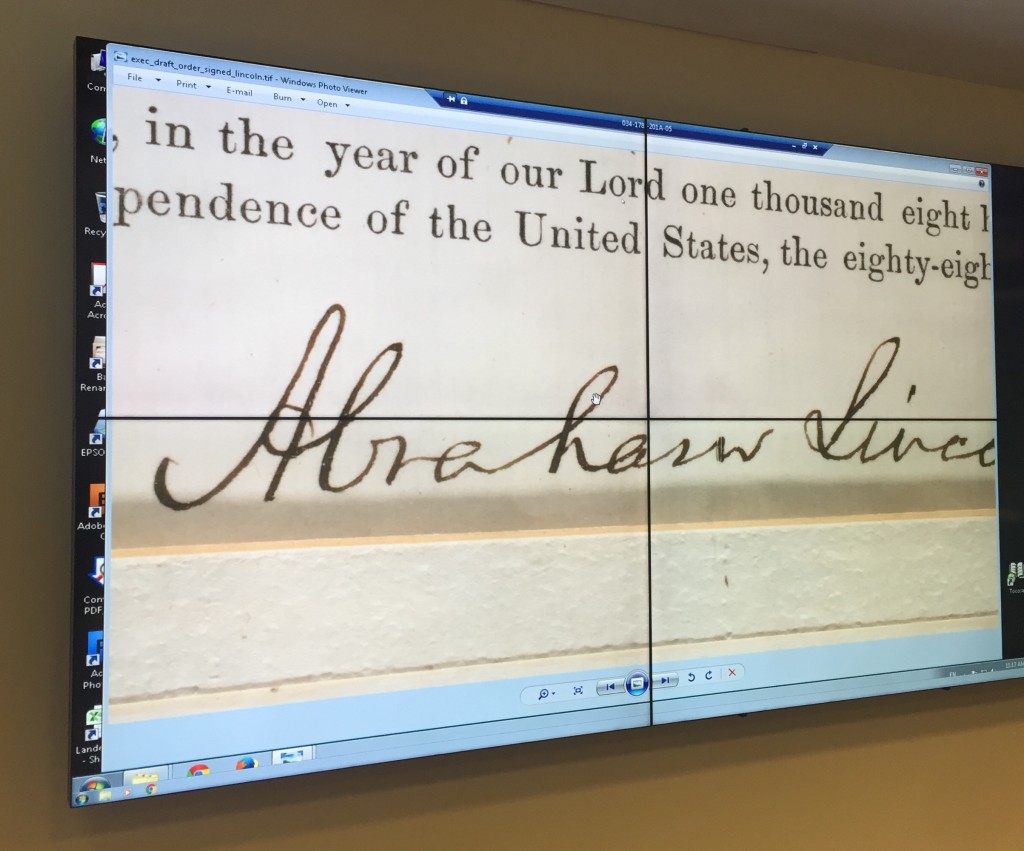 Our final experiment was yesterday when we hosted a graduate level multimedia class from the School of Information Studies. Here we wanted to take advantage of the large screen size and used half the screen for a presentation while on the other we used remote desktop to a computer in our lab and did a live demo colour correcting an image.
To learn more about the research commons you can email research.commons@mcgill.ca