Did you know the Marvin Duchow Music Library has over 200,000 music scores, recordings, books, journals, and online resources? And that the Library has a computer room, a highly specialized environment for music and multimedia creation and editing, which is available primarily to students enrolled at the Schulich School of Music? These are just some of the many fascinating discoveries I uncovered while working at the Marvin Duchow Music Library (MDML).
Hello! My name is Arvind Krishendeholl. I am a second-year student studying Flute Performance and Political Science and I am very excited to join the MDML team as both a Student Navigator and a Special Projects Assistant! Both of my roles at the Library can be summarized in one mission statement: to raise awareness about the wide range of services available to students, staff, and faculty at McGill.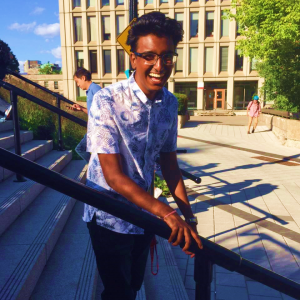 Working at the MDML has been an excellent opportunity for me to learn about the essential role libraries play in helping students achieve academic and performance success. Not only is the Library a quiet space for students to study, but the unique noise level organization wherein each floor has a different sound level also offers students the possibility to meet for group work and meetings.The Music Library also has a large collection of music scores and texts. The ability to access such a large quantity of materials is vital to my studies as a student at the Schulich School of Music.
Did you know that if the MDML does not hold a particular work you are looking for, it can be borrowed from another university through the Interlibrary Loan service? I recently ordered a work from Harvard!
The Library can be a very exciting place to work. Not only do I get great work experience in developing my knowledge of the Library, I also love interacting with students to ensure that their inquiries and requests are resolved.
If you see me organizing audio equipment at the 4th-floor service desk or taking pictures of books for our new social media accounts, be sure to say hello! I would love to speak to you and make sure your visit to the Music Library is an enjoyable one.
Arvind's position is supported by the SSMU Library Improvement Fund (SSMU LIF) and the McGill Music Undergraduate Student Association (MUSA).