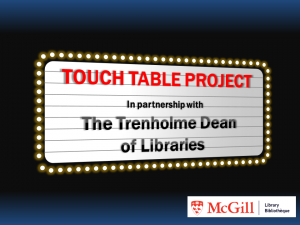 The Library's newest technology – an Ideum touch table is spending the summer in the Music Library.
The table is showing two exhibitions: complementary audiovisual items for the current John Rea's Musical Universe exhibition and a carousel of images from Hubert Bédard and Hellmuth Wolff: Visionaries of the Early Keyboard Revival, showcasing organ plans from the Hellmuth Wolff Organ Collection. 
We hope you will stop by and try out the touch table.