The Library of David Hume
The Scottish philosopher, David Hume (1711-1776) has been the subject of special interest at McGill since the late 1940s, and McGill has one of the major scholarly Hume collections.
Just before the end of 2015, Rare Books and Special Collections acquired a volume from David Hume's library to add to its already existing holdings. This new addition is a copy of Gian Battista Guarini's Il pastor fido, Paris: Prault, 1766. It is just possible that Hume acquired this copy of the pastoral dramatic best-seller, first published in 1585, during his last days in Paris in January 1766. He had been in Paris since October 1763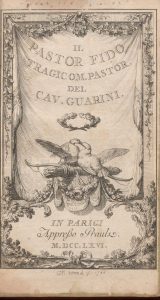 as Secretary to the British Ambassador, the Earl of Hertford. Or, it is possible that it might have been in the package of books sent to him by Jean le Ronde d'Alembert in the summer of 1767.[1] When David Hume died in 1776, his library passed to various members of his family, and to his nephew, David, Baron Hume, and the present volume has the inscription "Baron Hume 1829" on the front fly-leaf. On the latter's death in 1840, the library was dispersed.
The philosopher's library and its history has been reconstructed by the late McGill professor David Fate Norton and his wife Mary J. Norton in The David Hume Library (Edinburgh: Edinburgh Bibliographical Society in association with the National Library of Scotland, 1996). The Guarini volume appears in the Norton's bibliography as entry #559. Continue reading →