This coming Tuesday, December 2nd, Dr. Craig Stephenson will give a free public lecture on his book Anteros: A Forgotten Myth.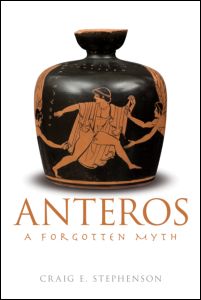 "Anteros: A Forgotten Myth explores how the myth of Anteros disappears and reappears throughout the centuries, from classical Athens to the present day, and looks at how the myth challenges the work of Freud, Lacan, and Jung, among others. It examines the successive cultural experiences that formed and inform the myth and also how the myth sheds light on individual human experience and the psychoanalytic process."
—from the publisher (Routledge) 
About the speaker: Craig E. Stephenson, Ph.D., is a graduate of the C.G. Jung Institute Zürich, the Institute for Psychodrama (Zumikon, Switzerland), and the Centre for Psychoanalytic Studies, University of Essex. He is the author of Possession: Jung's Comparative Anatomy of the Psyche (Routledge, 2009), editor of a collection of essays titled Jung and Moreno: Essays on the Theatre of Human Nature (Routledge, 2013), and the translator of Luigi Aurigemma's book of essays, Jungian Perspectives (University of Scranton Press, 2007). He has lectured at the Bodmer Foundation, Geneva, for the Philemon Foundation and at the Warburg Institute, University of London.
The talk will take place in Rare Books and Special Collections, 4th fl. McLennan Library, 3459 rue McTavish, Montreal. All are welcome. Please RSVP to jillian.tomm@mcgill.ca.