We welcome you to a lecture at McGill Library's  Research Commons Presentation Space_A for a compelling lecture on Paul Kane's Wanderings of an Artist (1859), to be delivered by Emeritus Professor Ian MacLaren (University of Alberta).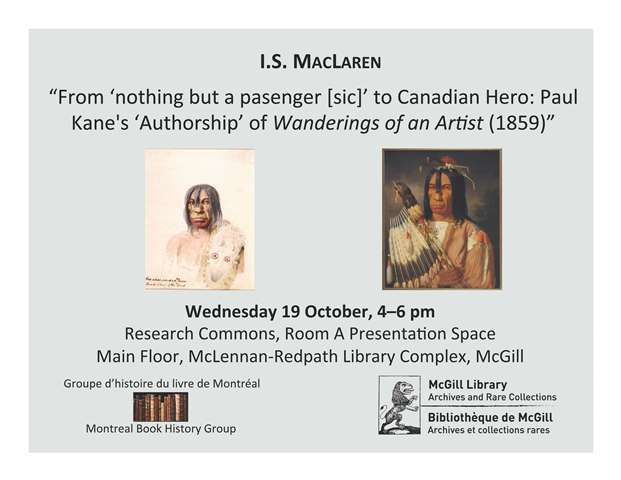 Professor MacLaren will discuss Paul Kane (1810-1871), the best known artist of early English-language Canada, and the alteration of his field writings to make a book "readied for the press" under the title:Wanderings of an Artist among the Indians of North America : from Canada to Vancouver's Island and Oregon through the Hudson's Bay Company's Territory and Back Again.
This book appeared in London in 1859 by the publishing giant Longman, and would transform Kane into a hero of early Canada. It was followed by  subsequent editions, such as a French translation produced in Paris in 1861; and a closer-to-home version out of Toronto in 1925 by the Radisson Society of Canada.
This event is free of charge and all are welcome. Please note the room location at the Research Commons Room A. This event is sponsored by the Montreal Book History Group, and the McGill Library's new ROAAr (Rare and Special Collections, Osler, Art and Archives) division.