Monthly Archives:
November 2012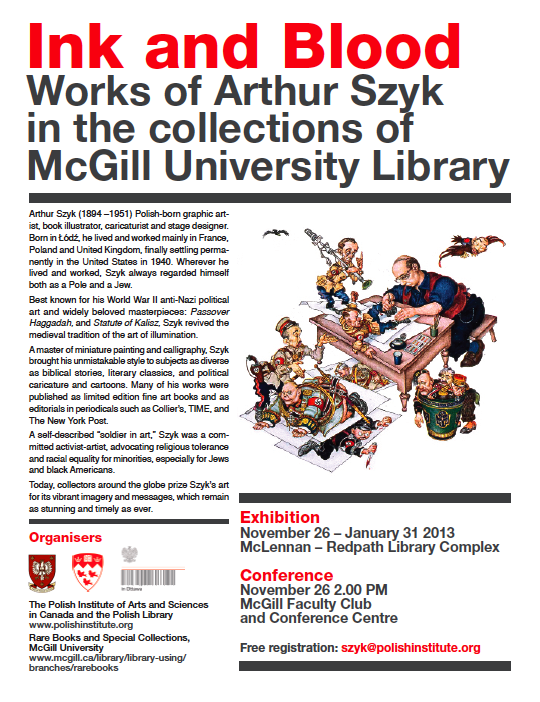 Exhibition and Conference Website: http://szyk.conference.mcgill.ca/
This exhibition highlights the rich and diverse cultures surrounding book production throughout the medieval Mediterranean. Drawing on the considerable holdings of Rare Books and Special Collections, McGill University, it includes many items that have never before been exhibited. Visitors will encounter complete copies of the Qur'an, the gospels, and books of hours in addition to a wide array of single leaves in Greek, Arabic, Latin, and Persian.
The exhibition is arranged thematically highlighting cross-cultural connections. The scientific and cosmological works, for example, feature an anonymous Latin treatise on logic and a vernacular illustrated herbal leaf exhibited alongside the celebrated Farrukh nāmah and the ʿAjā'ib al-makhlūqāt wa gharā'ib al-mawjūdāt. Similarly, under the rubric of power and storytelling, an exquisitely detailed genealogical scroll adumbrating the kings of England is juxtaposed with lavishly illustrated leaves of the Persian royal epic, the Shahnameh, in order to illuminate distinct modes for visualizing sovereignty. Together these materials evoke the varied conceptions of the natural, political, and cosmic world, while also attesting to dynamic traditions of script, ornamentation, and illumination across the many cultures of the medieval Mediterranean. Click here for the exhibition catalogue.
Curators:
Cecily Hilsdale, Assistant Professor, Art History and Communication Studies
Jennifer Garland, Art History and Communication Studies Liaison Librarian
Sean Swanick, Islamic Studies Liaison Librarian
The exhibition runs from November 2012 to January 18, 2013 in Rare Books and Special Collections, McGill University, McLennan Library Building, Fourth Floor, 3459 McTavish St.
FROM JAPAN…TO JAPAN

By Raynald Lepage
Japan as seen in maps and prints, "made in Japan", in the Nineteenth Century
Maps of Tokyo (1879), Nagasaki (1821), Kyoto (1883) and Yokohama (1868) and prints of the works of artists as well known as Hiroshige, Hokusai and Toyokuni; and, no less remarkable, Eisen, Kunisada and Kuniyoshi were selected from the holdings in Rare Books and Special Collections, McGill University. Maps and prints share the same printing techniques: woodblocks.                                                                               

Europeans had limited access to Japan for nearly two centuries, from early 17th C. to mid 19th. C. Americans broadened the access in the years 1852-1854, soon followed by the British and other nations. In 1886, Canadian Pacific Railway Co. provided a new route to Japan for Europeans across Canada through its transcontinental railway and, on the sea, with its fleet of ships.  One of their passengers, Lafcadio Hearn, translated Japanese fairy tales into English. The modern traveler could buy souvenir postcards or take photographs.
A book of Japanese decorative paper specimens closes the exhibit, completing the circle: the tradition of fine printing continues.
The exhibition is on view in the fourth floor lobby, McLennan Library Building, November 2012-February 28, 2013