This series features Schulich School of Music faculty presenting a selection
of books and music that they are exploring – for edification, inspiration, or
distraction – during these long months of social isolation. These short
interviews seek to emulate the spontaneous interactions that our patrons
enjoyed in the Music Library discussing their current reads or the recordings
that they had recently discovered (or rediscovered!). Tune in to learn about
new works and old favourites, and let us know what you are reading and
listening to!
Our fifth post in this series features Dorian Bandy, Professor of Music History and Early Music.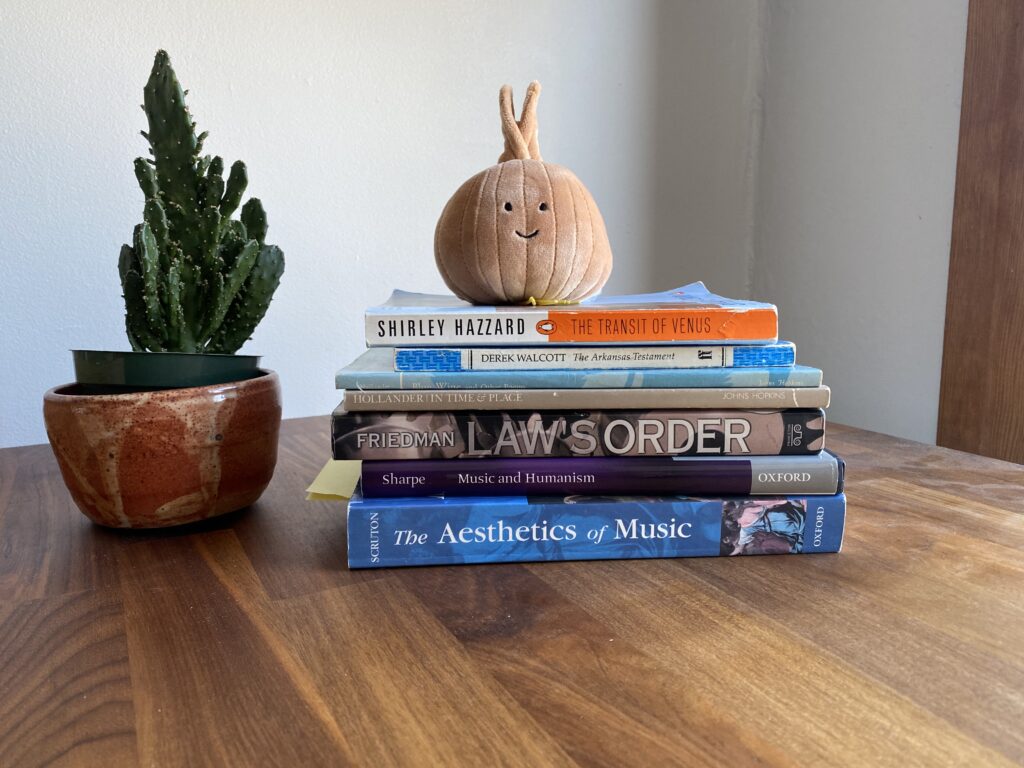 Q. What are you currently reading?
A. For an academic, there's never a simple answer to this question! This term, much of my reading has been in connection with the graduate seminar I'm teaching, Approaches to Musical Meaning. Currently, we're reading two chapters from R.A. Sharpe's Music and Humanism, and we've also spent quite a bit of time this term on chapters from Roger Scruton's The Aesthetics of Music. Both are extraordinary books: rigorous in their philosophical arguments but also beautiful and intimate in the way they take account of the musical experience. Scruton's book is, taken as a whole, particularly inspiring in this regard. But Sharpe, too, explores some wonderful ideas about the meaning and value of music. He makes a compelling case that musical works are best appreciated in exactly the same way that we appreciate people—and beyond the strength of his arguments, this idea has always rung true for me. Especially during a time of comparative isolation, I feel more aware than ever that the people I regularly spend time with include various favourite concertos, sonatas, and operas!
Aside from "official" reading for my seminar, my pleasure reading over the past few weeks has included David Friedman's Law's Order (a nonfiction book about the relationship between economics and law), which has completely reshaped my understanding of the legal norms of Anglophone countries; Martin Amis's novel The Information (a book whose plot does not matter at all; reading it, one forgets that there's a story and instead just delights in the liveliness and brilliance of Amis's prose); and various collections of John Hollander's poetry, including In Time and Place and Blue Wine. In Time and Place is an interesting and beautiful collection in which every stanza is rhymed A/B/B/A. In one poem, he self-consciously reflects on this constraint:
Why have I locked myself inside
This narrow cell of four-by-four,
Pacing the shined, reflecting floor
Instead of running free and wide?
He goes on for quite a few pages discussing the history of this rhyme-scheme (never once departing from it), and ultimately concludes that the scheme itself is a metaphor—for love, for distance, and even for the passing of time:
I, too, fill up this suite of rooms,
A bit worn now, with crowds of word,
Hoping that prosody's absurd
Law can reform the thoughts it dooms;

An emblem of love's best and worst:
Marriage (where hand to warm hand clings,
Inner lines, linked by rhyming rings;
Distance between the last and first),

This quatrain is born free, but then
Handcuffed to a new inner sound,
After what bliss it may have found
Returns to the first again.

— Not our bilateral symmetry,
But low reflecting high, as on
His fragile double poised, the swan:
What's past mirrored in what will be.
Q. What are you listening to these days?
A. For the past two months, I've been on a pretty intense Beethoven kick. Beethoven is one of my favourite composers, so it's not unusual for me to listen to his music—but my focus these past two months has been unusual for being uninterrupted. I traveled to the UK in December, and when I returned to Montreal and had to spend two weeks in isolation, I listened twice to the entire piano sonata cycle (the period-instrument recording featuring Malcolm Bilson and colleagues). I also listened through all of the string chamber music, the piano concertos, and the violin sonatas. I'm now on to the piano trios, and have been listening to a marvellous recording by Trio Goya. A few days ago I finally broke the Beethoven habit and listened to Trio Goya's Haydn recording—and the music-making is just spectacular.
I'll also report on two films I've discovered this winter: the first is What's Up, Doc, which was recommended by my music history area colleagues Lisa, David, and Chip. (It came up in a faculty meeting a few weeks ago because much of it takes place at a musicology conference—though this is just the on-ramp to an unrelentingly hilarious farce in the spirit of Bringing Up Baby.) The other is Christopher Nolan's Dark Knight trilogy, which didn't impress me when I saw them in theatres in my teens and early twenties, but really captivated me now. All three movies in the trilogy are aesthetically beautiful, philosophically rich, and even psychologically deep. (This is not something I ever thought I'd say about a Batman movie!)