Since the physical closure of McGill University and the Library in March, we have all been navigating new territory with regards to finding suitable and accessible resources for practice, performance, and research. One particular challenge that music students and faculty face is getting access to scores. However, there are several options available to the McGill community to locate online scores for perusal or even for printing. Here is a guide to some useful resources and websites beyond IMSLP and the Internet Archive. 
Online Score Collections (McGill community only) 
Classical Scores Library is a large collection of full, study, piano, and vocal scores and encompasses a wide range of classical music genres from the Medieval period to the 21st century. Scores can be viewed online, downloaded, and printed in full. You can access, for example, the study score of Mendelssohn's op. 64 Violin Concerto, the full score of Mozart's Don Giovanni, and a modern edition of Orlando di Lasso's motet Videntes stellam Magi. Some editions even include individual parts for chamber music.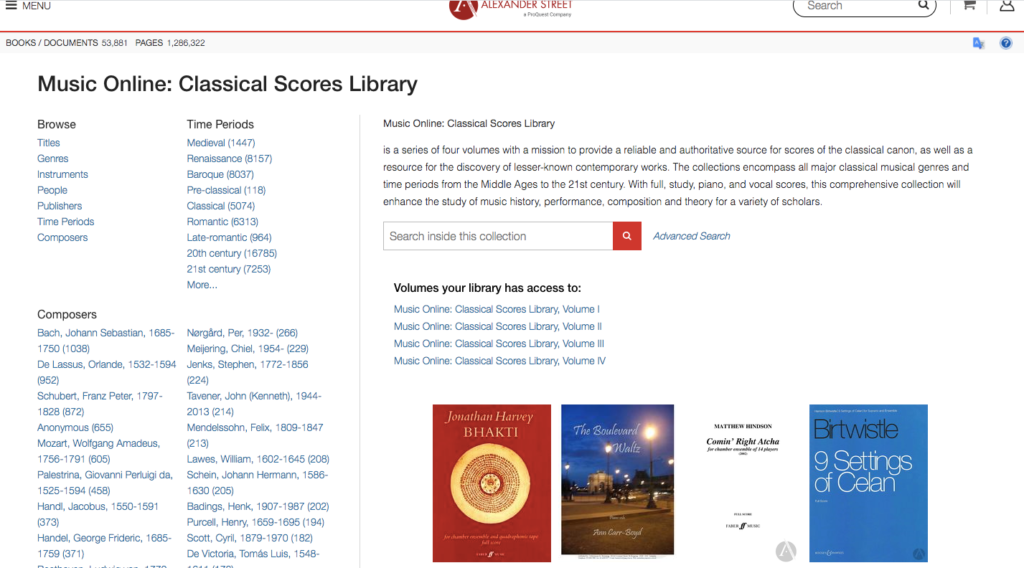 Browse by genre, time period, or composer, or use the Advanced Search function to search for specific works using keywords, opus number, instrumentation, or publisher.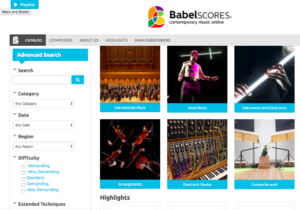 BabelScores is an excellent resource for exploring contemporary music. You can browse by instrument, genre, or composer, or use the Advanced Search function (under the Catalog tab), which can filter results by difficulty or the use of extended techniques. Once you have made your selection, you are provided with information about the work, the instrumentation, the full score (with an excellent zoom function and the ability to download a PDF), and a recording. You can even contact the composer by email! 
Publisher Websites (Open to the public) 
A number of music publishers offer access to online scores for perusal: click here to watch our video tutorial. You can create a free account on the Boosey & Hawkes website and log in to view their selection of online scores.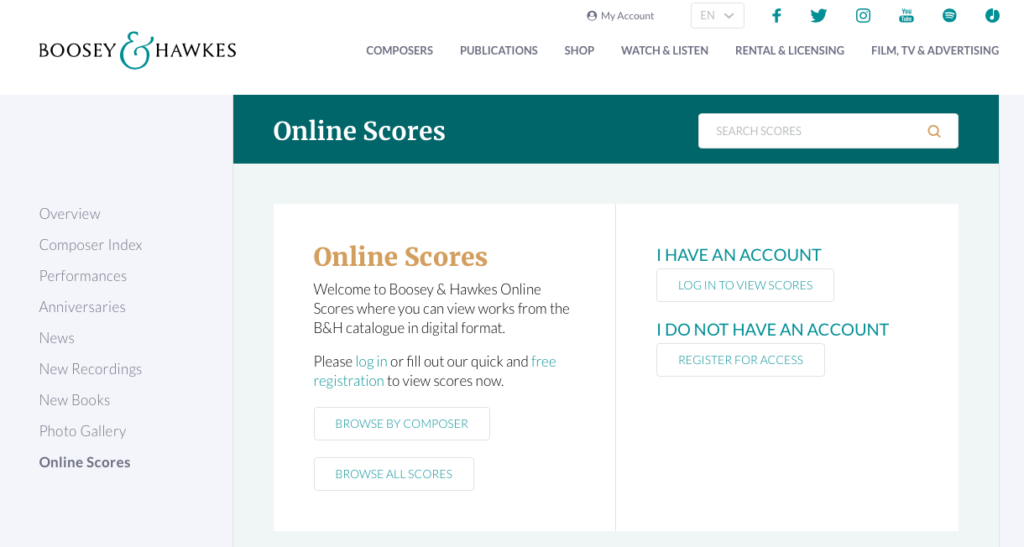 Although there are fewer online scores available for historical composers such as Brahms, Mozart, and J.S. Bach, 20th– and 21st–century composers are well represented in their online catalogue, including Leonard Bernstein, Elliott Carter, Unsuk Chin, Elena Kats-Chernin, and Steve Reich. 
Universal Edition includes complete perusal scores of a selection of works from their catalogue. The range of works available for online perusal is fairly wide. Here, for example, you can view scores by Gustav Mahler, Alfred Schnittke, Luciano Berio, and Victoria Borisova-Ollas. There are also audio samples of some works. Not every work in their catalogue includes a complete perusal score, however, and, unlike the Boosey & Hawkes website, there is no direct link to their complete online score collection. That being said, it is definitely worth checking their website to see if they include the perusal score for a particular work. You can browse their catalogue by composer, work, instrument or genre.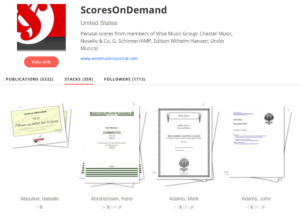 Another option for finding perusal scores is ScoresOnDemand, provided by members of Wise Music Group. Publishers include Chester Music, Novello & Co, G. Schirmer/AMP, Edition Wilhelm Hansen, and Unión Musical. There are more than 5,000 scores available for perusal. Locating a specific work proves challenging, however, because the search functionality is limited. Choosing the tab "Stacks" is helpful: it groups the scores by composer, thereby allowing you to scroll through a more manageable list. You can follow ScoresOnDemand, or particular "stacks", and receive updates when new scores are added.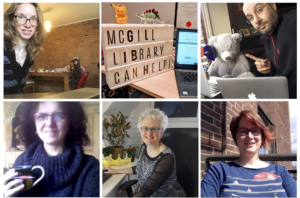 Remember that Music Library staff are here to answer your questions and to assist you in finding the resources you need for your coursework, practice, performance, and research. Please contact a Music Library staff member and we will support your needs as best as we can.