A Signed Presentation Copy by John Franklin to Wentzel
McGill Rare Books houses several hundred historical books related to polar expeditions from the late eighteenth and nineteenth centuries. These books document the tremendous struggles in navigating icy seas and obtaining adequate provisions for their wintering stations. Crews of men  were hoping for a break though in claiming a northwest passage for Britain from the Atlanic Ocean to Asia.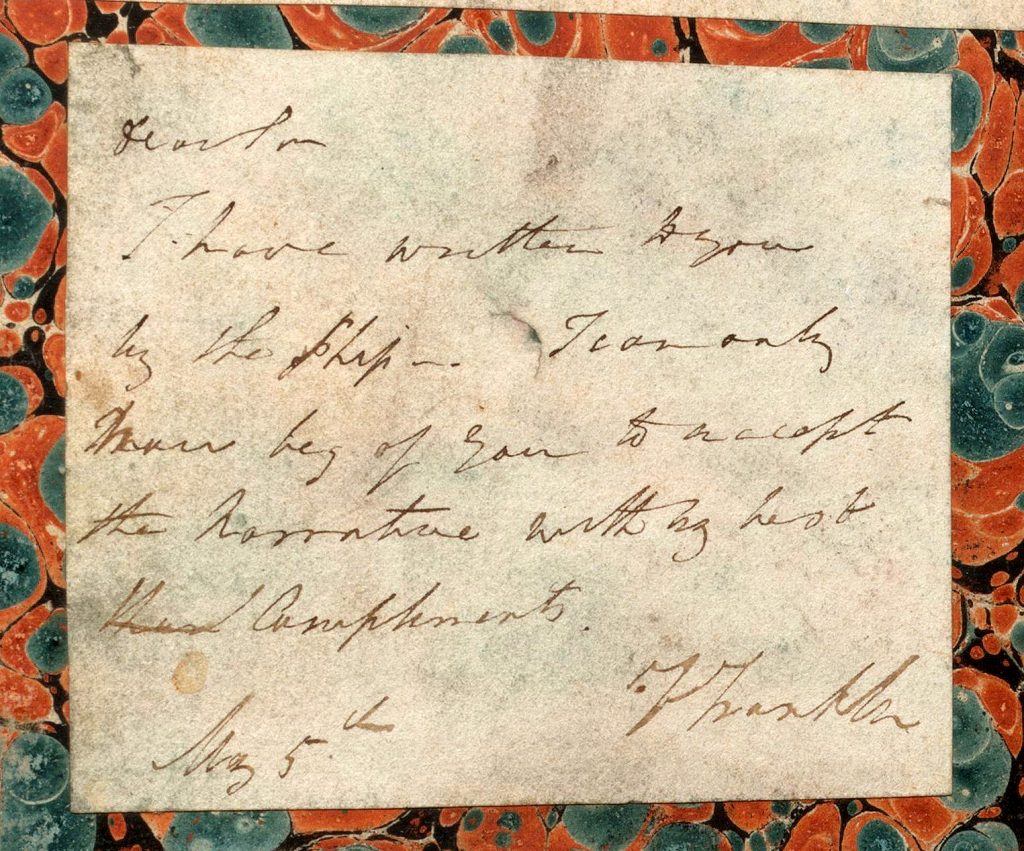 The expeditions of Sir John Franklin are particularly in the public eye due to  the recent investment in search expeditions funded by the Canadian government which led to the discovery of the two ships used for Franklin's third fateful expedition to the Arctic in 1845 (HMS Erebus was found in 2014, and the wreck of HMS Terror in 2016). The ships disappeared after they became locked in ice in 1846. What of the earlier successful missions? Many of the copies of the first and second Franklin voyages were just recently restored with a generous gift of funds from the Lang family. This includes an extraordinary copy of Franklin's first Narrative of a Journey to the Shores of the Polar Sea, in the years 1819, 20, 21, and 22, published in London by John Murray in 1823.
McGill's copy is  extraordinary through its provenance to Captain Franklin (1786-1847). It is a SIGNED PRESENTATION COPY from John Franklin to W. F. (Willard Ferdinand)  Wentzel, a fur trader who had aided Franklin by hiring guides and hunters for the expedition when they were at Great Slave Lake in July of 1820. A part of Franklin's inscription reads as follows: "Dear Sir, I have written to you …. I can only now beg of you to accept the Narrative with my best compliments. May 5th [1823], [signed] J. Franklin." 
This inscription is a chilling reminder of the teams of men who attended to affairs at remote trading posts and their crucial service to expeditionary missions. At the same time, it is wonderful to be in such close proximity to the story of Franklin and Wentzel through an historical artefact. The volume was passed along through relations of Wentzel all the way to McGill Library sometime around 1890. It even appears to have weathered through some tough conditions itself – making it a priority pick for restoration.
Beyond being a detailed  journal of events, Franklin's first edition  also offers numerous charts, diagrams and  illustrations, some  of which are hand-coloured. Most of the plates are engraved by Edward Finden from the original drawings of Lieutenants Robert Hood and George Back.They convey the challenges of a majestic natural environment, before an era of melting ice caps.  The  engraving below shows an encampment set up in winter time 1820, nearly two hundred years ago, during a land expedition. Despite hardships this view suggests a perfectly habitable landscape, even an inviting one, on the periphery of the true northern arctic. We hope to leave you with a feeling of wonder from this Winter's Night Scene.