We are pleased to announce the publication of: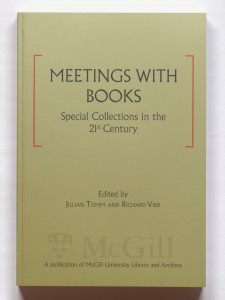 MEETINGS WITH BOOKS
Special Collections in the 21st Century
With a Tribute to Raymond Klibansky
&
Illustrated Survey of Special Collections at
McGill University Library and Archives
Edited by
Jillian Tomm and Richard Virr
A publication of
McGill University Library and Archives
On March 20, 2013, McGill University held a one-day symposium titled "Meetings with Books: Raymond Klibansky, Special Collections and the Library in the 21st Century." The aims of the symposium were three-fold: to discuss the question "It is all on the Web, so why bother? Special Collections in the Digital Age"; to celebrate the memory of Raymond Klibansky as a mentor, scholar, collector, and donor of his significant and valuable research library to McGill; and to bring the narrative gifts of author Alberto Manguel to ignite inspiration as only he is able.
The day was an opportunity to consider why historical book collections might matter, and how they connect, or might be connected, with current forms and directions in teaching, research, and learning. Speakers brought a wealth of perspectives from across the humanities and special collection librarianship to bear on upon the question of the role of special collections in the digital age. Alberto Manguel powerfully evoked the drive that compels and leads the explorer — be he or she scholar or otherwise — to great labours, and to sometimes reach and cross accepted boundaries of questioning or suggestion. The personal tributes inspired by Klibansky paid fitting testimony to a man who embodied so much of this perpetual search, the search to know, the search for what it means to be human.
(See videos from the symposium)
The published volume Meetings with Books grew out of this symposium.
The book includes:

A historical survey of McGill's special collections by
Richard Virr (McGill University)

A tribute to humanist scholar and book collector Raymond Klibansky by:
Georges Leroux (Université de Montréal à Québec)
Désirée Park (Concordia University, Montreal and Wolfson College, Oxford)
Gerald Beasley (University of Alberta)
Ethel Groffier (Paul-André Crépeau Centre, McGill University)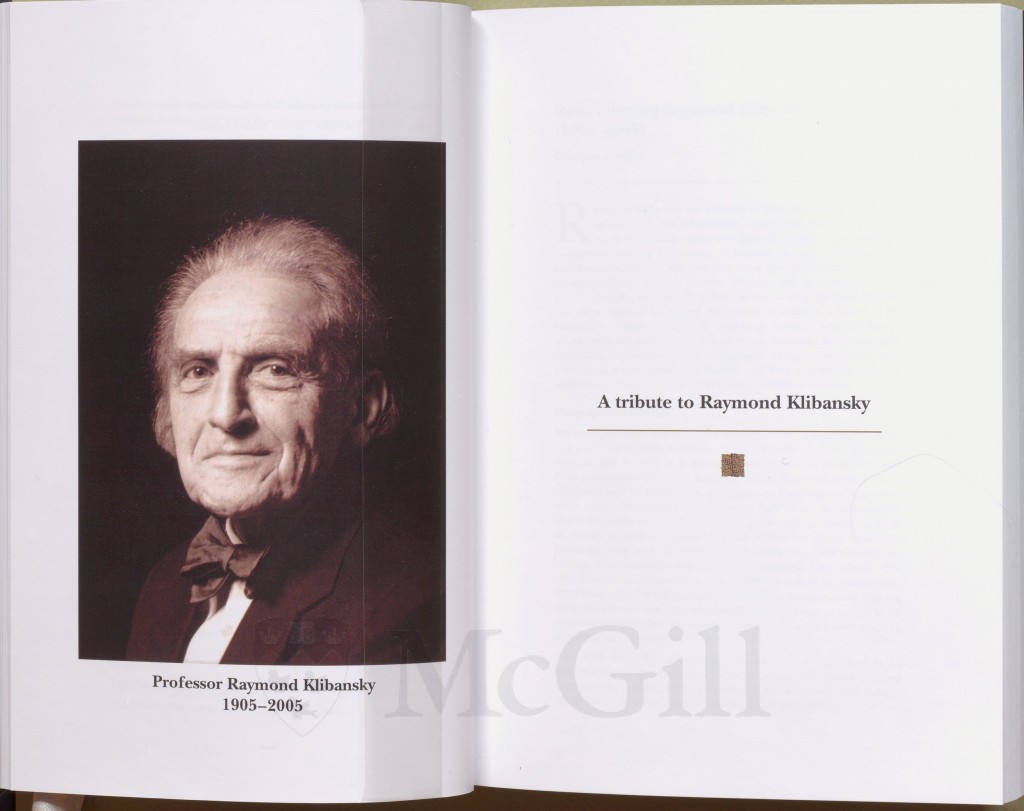 Short essays on how historical book collections connect with current forms and directions in teaching, research, and learning in the digital age by:
Leslie Howsam (University of Windsor)
Fiona A. Black (Dalhousie University)
Julie E. Cumming (McGill University)
Stéfan Sinclair (McGill University)
Ann Marie Holland (McGill University)
Anna Dysert (McGill University)
Christopher Lyons (McGill University)
Jillian Tomm (McGill University)
Gregory Bouchard (McGill University)

A keynote essay by Alberto Manguel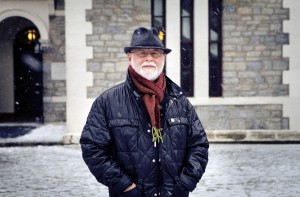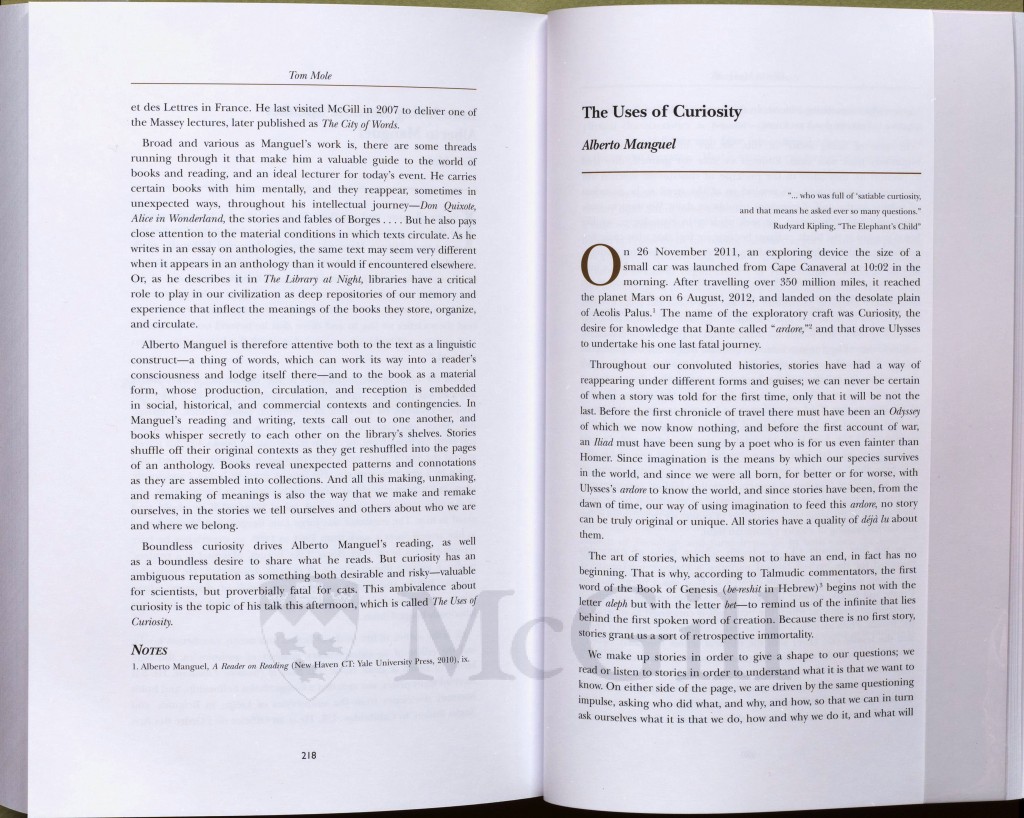 And interspersed with these essays, a selection of more than fifty illustrated "vignettes " which serve to provide material context for the discussion. They illustrate variety and connections across historical collections at McGill University Library and Archives in particular, and suggest the great richness of still-potential research held in special collections libraries generally.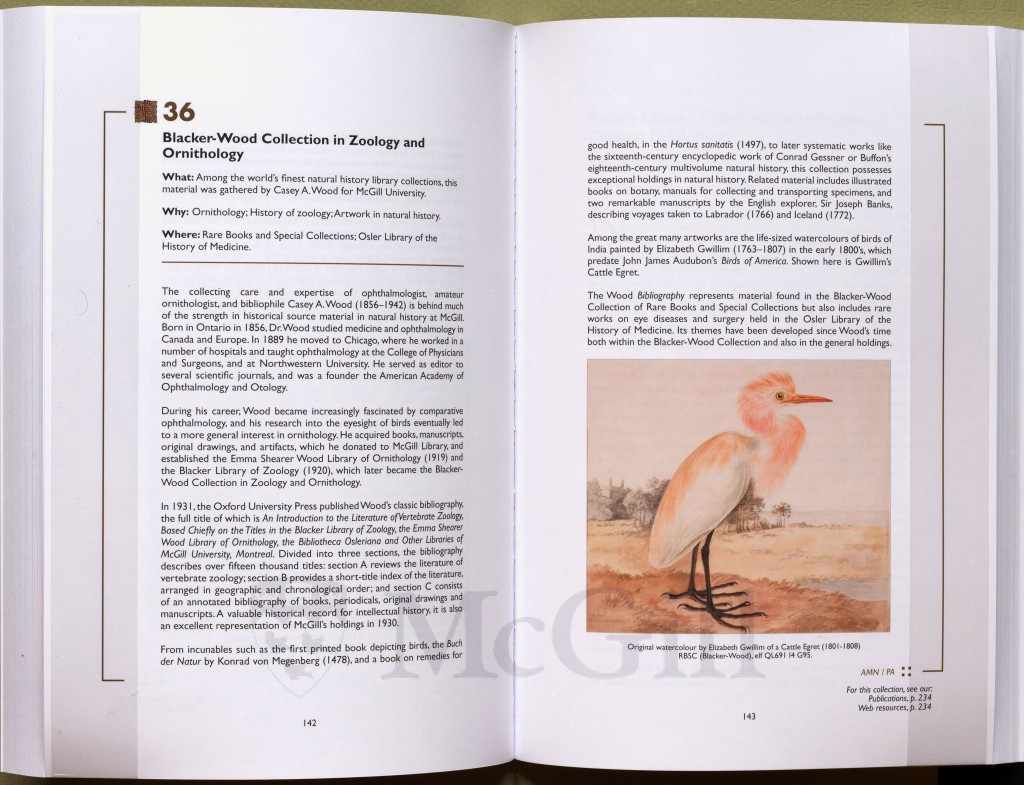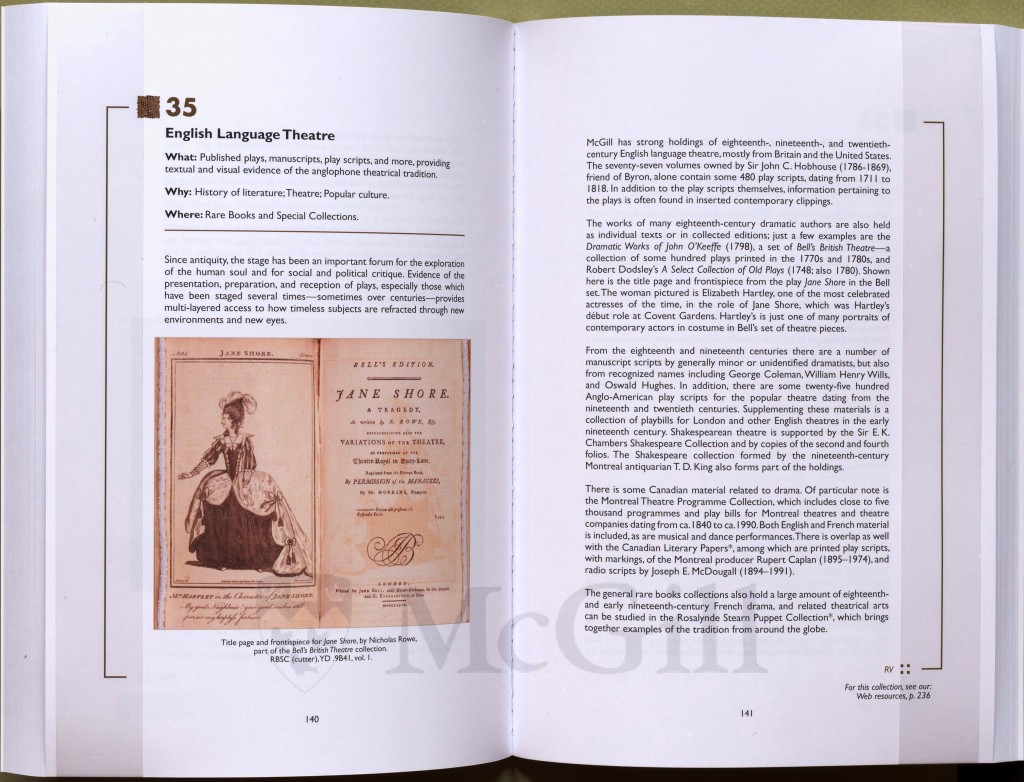 Printed volume: 40$ CDN. The work is also available freely as a pdf file online at McGill e-scholarship here:
Meetings with Books can be ordered from
Rare Books and Special Collections
McGill University Library
McLennan Library Building, 4th floor
3459 McTavish Street
Montreal, QC H3A 0C9
Canada
Please make your cheque out to McGill University Library, with a note "Meetings with Books." or write us at: rarebooks.library@mcgill.ca