Rare Books and Special Collections has recently acquired a copy of George Cruikshank's  Our 'gutter children', a large, four-page pamphlet with a colour illustration at the head. This document, which complements RBSC holdings of Cruikshank's illustrated book works and extensive caricature collection, appears to be the only recorded copy in a Canadian library.
George Cruikshank (English, 1792-1878) was a print maker and caricaturist who achieved fame first through political and social caricature in the popular press and later as a successful  illustrator of books. His output was extensive, and he created plates for Dickens' Oliver Twist, Defoe's Robinson Crusoe, and the Brothers Grimm, to name a few.
Our 'gutter children' will be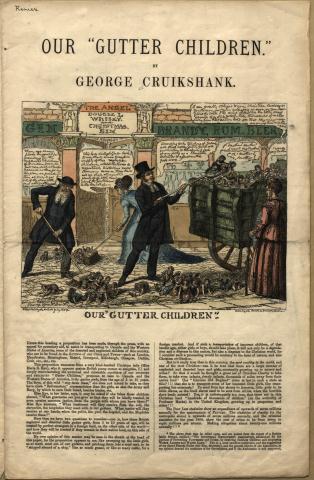 of particular interest to researchers looking at Home Children, the movement of child emigrants from Great Britain to Canada between 1869 and the 1930s.
"…a proposition has been made, through the press, with an appeal for pecuniary aid, to assist in transporting to Canada and the Western States of America, some of the deserted and neglected children of this country, who are to be found in the GUTTERS of our Cities and Towns…"
This item is available for consultation in Rare Books and Special Collections.