Please join us for a day of talks being held this Thursday, December 12th in the Colgate Room of Rare Books and Special  Collections relating to the exhibition Un héritage intellectuel, presently on view in the Main Lobby of the Humanities and Social Sciences Library, sponsored by IMAQ.
IMAQ is the acronym for "L'Inventaire des imprimés anciens au Québec", a funded research grant based from the research Chair of Marc André Bernier at the Université du Québec à Trois-Rivières. McGill's participation is accomplished under the direction of Professor Frédéric Charbonneau, of McGill's Department of French Language and Literature; and carried out with the support of the Library, under the direction of Dr. Richard Virr. McGill is the beneficiary of a fruitful collaboration on many levels and addresses our Hidden Collections situation in a concrete way.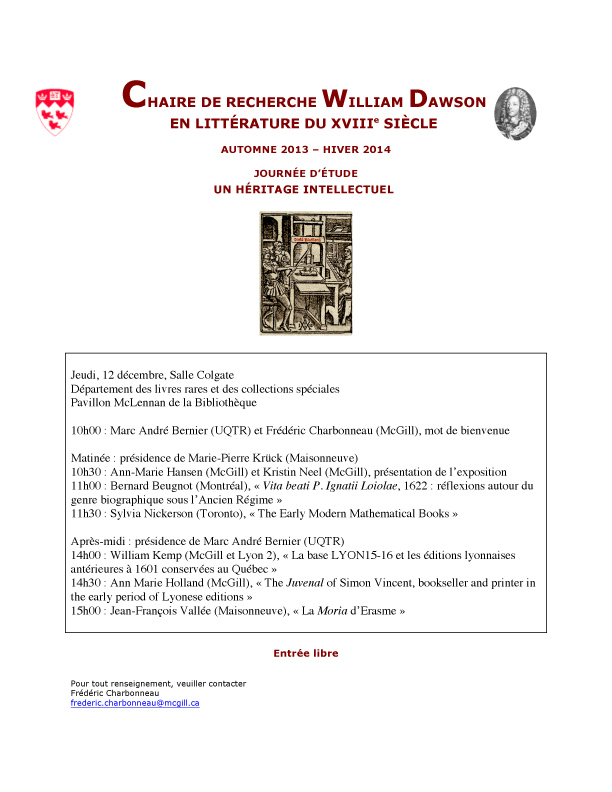 The purpose of IMAQ is to make Quebec institutional holdings of early imprints more visible and readily accessible to researchers through the online catalogue. This has been achieved by Ann-Marie Hansen and Kristin Neel, McGill University Graduate Students in the Department of French Language and Literature, also the Exhibition Curators. The exhibition fulfills a purpose to expose these newly integrated titles to wider audiences, to promote the collection of early imprints and to suggest avenues for future research. The day of talks promises to shed further light on specific aspects of the works.