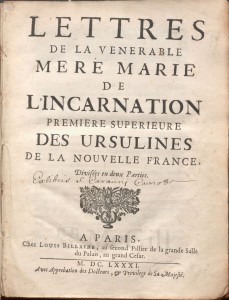 Two major figures from the history of New France were canonized on April 3rd 2014 by Pope Francis: Marie Guyart, better known as Marie de l'Incarnation (1599-1672), and Francis-Xavier de Montmorency-Laval, or François de Laval (1623-1708). Marie de l'Incarnation came to New France as an Ursuline nun in 1639, and helped to establish and run Canada's first school, and François de Laval was the first Roman Catholic Bishop of New France, arriving in Quebec in 1659.
The library holds many titles both by and about these two historical figures. Especially notable among McGill's holdings are the published letters of Marie de l'Incarnation, printed in 1681, shown here. The book was published by her son, Claude Martin (1619-1696), who was still a young boy when she left him in France to come to the New World, and many of her letters are to him. Martin had also written, in 1677, a biography of his mother (see en electronic copy).
The life of Marie de l'Incarnation interested her contemporaries, including historian and explorer Pierre François Xavier de Charlevoix (1682 –1761). His 1724 biography of her, La vie de la mere Marie de l'Incarnation, can also be consulted in Rare Books and Special Collections.
Both of these titles are part of the Lawrence Lande Canadiana Collection.