In May 2020, the annual conference of the Association for Recorded Sound Collections (ARSC) was set to take place in Montreal, along with an exhibition at the Music Library on radio and the performing arts. Due to COVID-19, the conference was instead hosted virtually. The curators also moved their exhibition online, creating a virtual exhibition that the general public can explore. These events were planned in conjunction with the Centennial of Broadcasting in Canada, co-organized by the Musée des ondes Emile Berliner and the Société Québécoise des Collectionneurs de Radios Anciens (SQCRA), to mark the 100th anniversary of radio broadcasting in Canada.
The virtual exhibition "Radio and the Performing Arts" provides an exceptional opportunity to discover the rich history of the radio in Montreal. The city played a key role in the development of the radio as means of mass communication in Canada. Because of its position at the time in the transportation network, linked at once to the cross-country railway system and as a naval port of entry, Montreal was heavily invested in developing technology that would allow for more efficient and productive communication. Montreal therefore had an important influence not only on the development of radio technology and manufacturing and the design of equipment, but also on the sociocultural shaping of the medium with regards to its content and programming.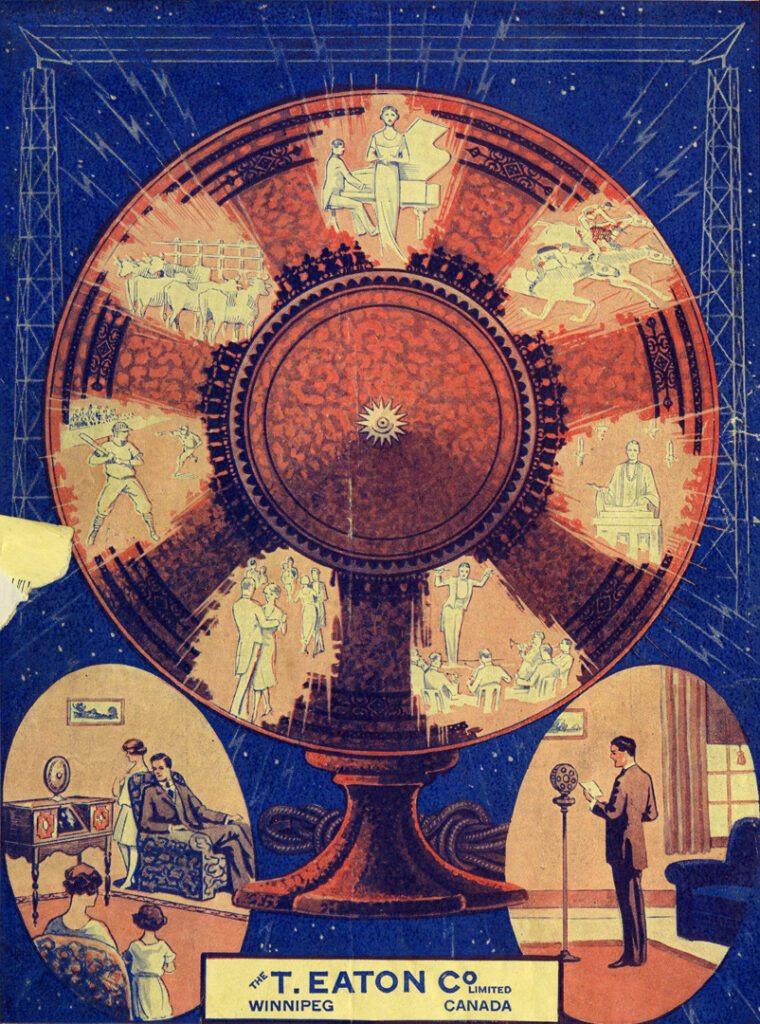 Since its beginnings, the radio allowed people to bring music and theater into their homes in a whole new way. In the early 20th century, mechanically produced recordings were few in number and often had poor sound quality. The radio permitted live broadcasting of concerts in addition to the broadcasting of recordings. In the 1920s, CKAC, the station owned by La Presse, boasted a concert stage and a Casavant organ. In 1923, the station broadcast Robert Planquette's operetta Les cloches de Corneville, a production that included a full chorus and orchestra. Within the next few years, CKAC negotiated a deal with the American network CBS to broadcast concerts from the USA and Europe, in exchange for concerts performed by the CKAC orchestra, directed by Edmond Trudel. As the cost of a radio receiver became more affordable and open to a larger public, the genres of radio music broadened from classical and opera to include folk and popular song. New dramatic genres were soon adapted for radio broadcasting, such as radio theatre, dramas, and comedy, in addition to courses and lectures. The Canadian Broadcasting Corporation (CBC), launched in the 1930s, emphasized the importance of creating Canadian content as a bulwark against a potential American invasion of English-language airways. The CBC soon launched a family variety radio show, The Happy Gang, and the celebrated Hockey Night in Canada.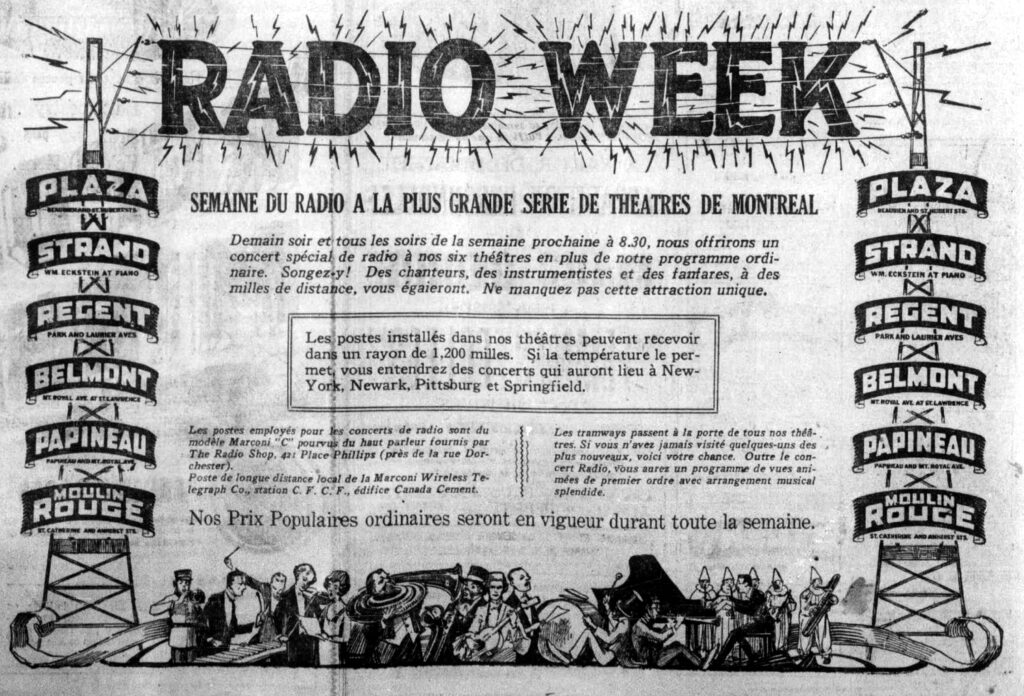 Interested in learning more? Explore the virtual exhibition and the Centennial of Broadcasting in Canada website. You can also watch the Facebook Live interview, led by Houman Behzadi, Head Librarian at the Music Library, with curators Alain Dufour and Mariana Mejia Ahrens.