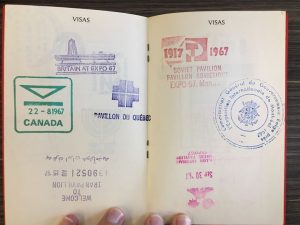 McGill @ Expo 67 is an exhibition in the McGill Library that celebrates Expo 67's 50th anniversary. It showcases the University's rich collections of photographs, souvenirs, drawings, and passports, as well as materials belonging to McGill community members especially donated for the exhibit.
McGill @ Expo 67 looks at the role of Expo 67 in teaching and research, arguing for the continued relevance of Expo 67 for Canada's next generation of university students.
Curated by: Annmarie Adams, Professor, School of Architecture & Chair, Department of Social Studies of Medicine; Jennifer Garland, Associate Librarian, McGill Library; David Theodore, Assistant Professor, School of Architecture.
The exhibition runs October 2nd – December 21, 2017 in the McLennan Library Building (main floor, lobby). For opening hours, click here.