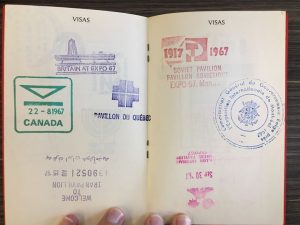 The McGill Library Expo 67 Collection was formed in the years following the fair by McGill Library staff and subsequent donations. It includes ephemera, photographs, realia, published material, official documents, and architectural plans.
Books and ephemera: The Expo 67 collection consists of ephemera such as license plates, visitor passports, postcards, a record, letter opener, bottle caps, ticket stubs, shopping bags, pins, souvenirs etc. There are also guidebooks, magazines, catalogues, posters, books, information manuals, and other written material including clippings and several unpublished documents. Included in this collection are pamphlets and brochures for numerous pavilions, events, services, and countries as well as a variety of maps regarding Expo 67 and subsequent seasons of the Man and His World exhibition.
Photographs: The Expo 67 Slide Collection archives almost 500 images capturing the buildings and surrounding area of the Expo '67 site. The original photographs (slides) were taken by Meredith Dixon at the 1967 World Exhibition that took place in Montreal, Quebec on April 28th through October 29th.
Architectural archives: The John Bland Canadian Architecture Collection holds the archives of Moshe Safdie, Sigrun Bülow-Hübe, Norbert Schoenauer, John Schreiber, Joseph Baker, Harry Stilman, and John Bland, all of whom worked on projects at Expo 67.
For more information or to view the collection, please contact Rare Books and Special Collections.