Launched in 2009, the Foundation for Arab Music Archiving & Research (AMAR) is a private Lebanese organization working towards the preservation of recorded and printed Arab musical tradition of the Nahda (approx. 1903-1935). AMAR also aims at supporting on-going scholarly research in musicology, and promoting traditional Arab music. To do so, AMAR actively collects, catalogues, and digitizes printed scores and audio records, organizes public lectures, scientific conferences, and musical concerts, and ensures its unique collection is accessible to worldwide researchers and the general public.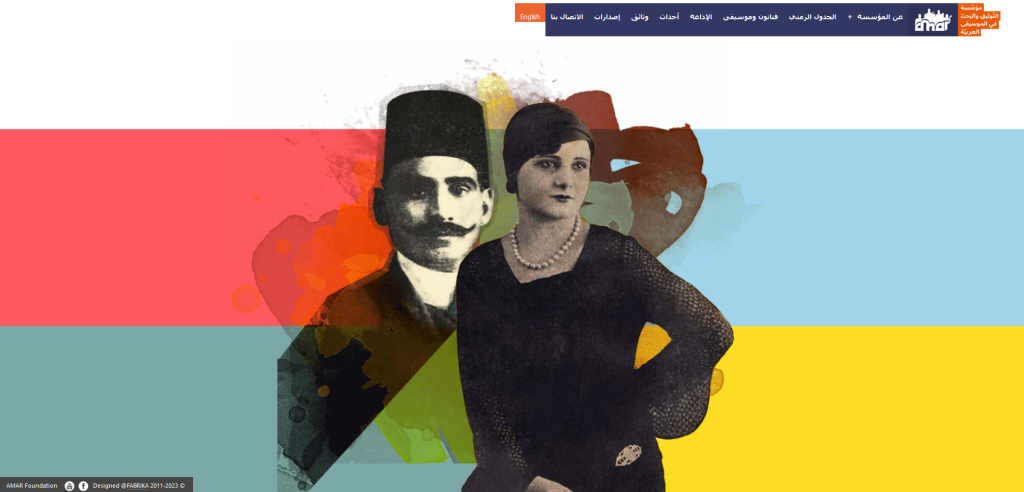 The Foundation for Arab Music Archiving & Research is supported by numerous artists and music professionals. International renowned musicologists such as Jean Lambert, Nidaa Abou Mrad, Virginia Danielson, or Michael Frishkopf are members of the Consulting & Planning Board. And the foundation is managed by a Leading Team including numerous music specialists and professionals.
Today, AMAR has one of the largest known record collections of Egyptian/Syro-Lebanese Arab music from 1903 through to the 1930s. AMAR also has some partial collections of Lebanese studio recordings that date back to the 1950s.

'About' page
The geographical focus of the foundation's work spans from Lebanon, Syria, Palestine, Iraq, the Arab Gulf to Morocco, Algeria and Tunisia, and includes minority groups existing in these countries such as the Syriac, Kurdish, and Coptic communities as well as Sufi orders. If initially, AMAR's dissemination work relied primarily on CDs and booklets, with the rise of the Internet, efforts were redirected towards the creation of "a website that will deliver Arab music at the highest quality that available technology allows."
On the website, visitors will find a dynamic timeline highlighting important contributors to the development and circulation of traditional Arab music. Despite some limitations outline in the introductory paragraph, the timeline remains an interesting source of information.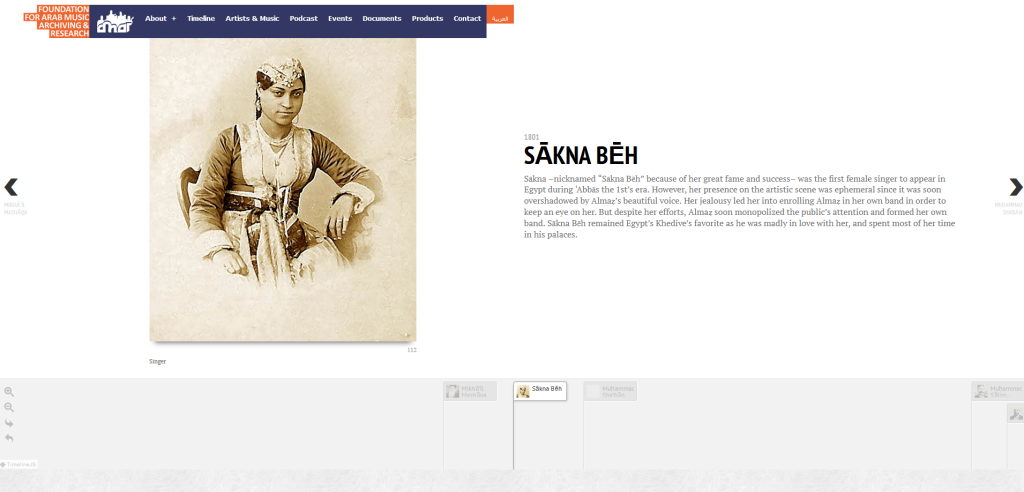 Complementing the timeline, the Artists & Music section offers a different way to navigate the various singers, and composers included in the database: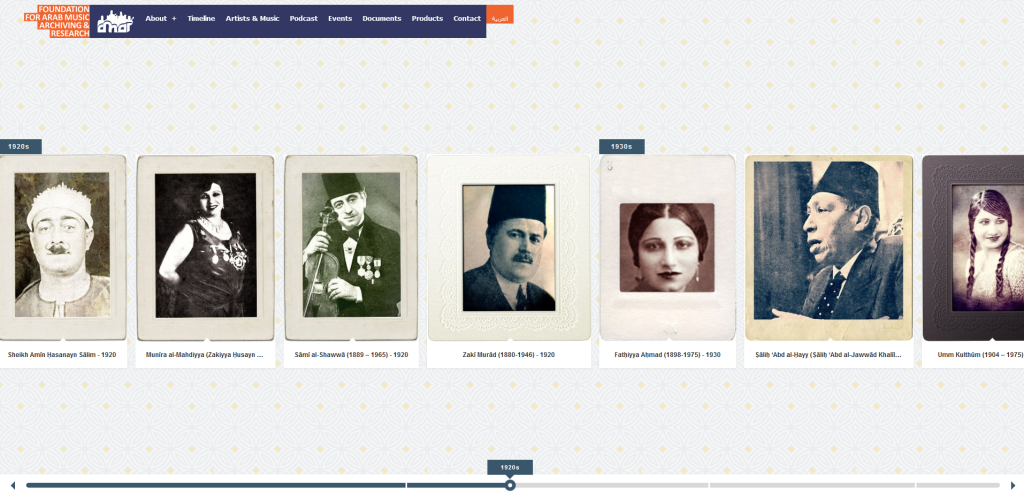 Moreover, in the past ten years, AMAR produced over 200 Podcast episodes (in Arabic) focusing on individual artists, musical techniques and/or instruments. And the list of events available on a dedicated page gives a idea of the variety of manifestations AMAR participated in and organized: exhibitions, concerts, panels, film screenings, etc. Unfortunately, the most recent ones go back to 2021: one can only hope they will resume activities in this area soon. The Documents page gives access to lengthy and well-documented papers on various people and topics:
Last, the Products page is where one can order materials published by the foundation from, mostly CDs but also a monograph: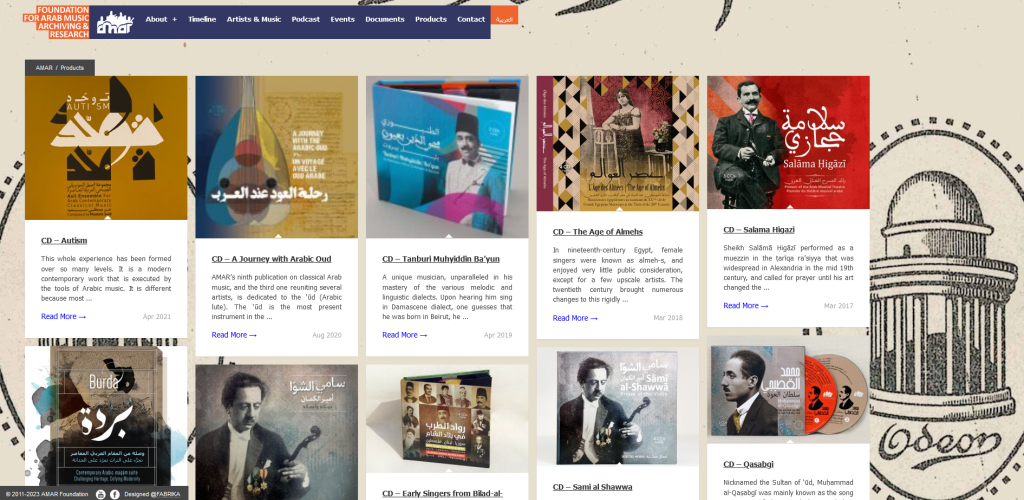 It is worthy to note that traditional Arab music enthusiasts will find original music available for listening in a number of the website' sections (Artists & music, Podcast, and Products). Be advised that the sound quality varies from one recording to another.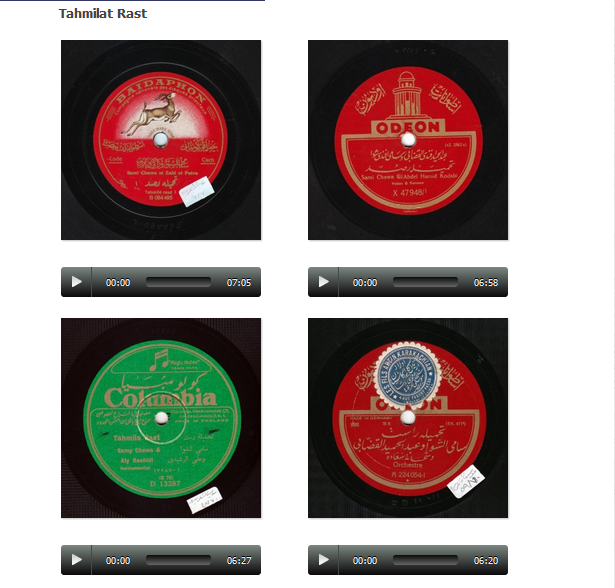 For more information, we invite you to consult the Press and Press TV Kits, and/or contact the AMAR Foundation. Their website is available in Arabic and English.