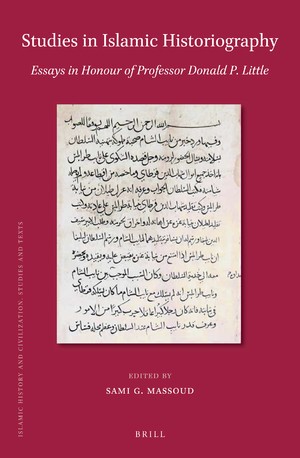 Professor Emeritus Donald P. Little (1932-2017) spent his career at McGill University's Institute of Islamic Studies as Professor of Islamic History and Arabic Language. During these years, he not only published and taught, but also advised and guided numerous students in their research. In honour of his influence, Sami Massoud (editor) along with nine other scholars combined their efforts to produce a work in Islamic Historiography, divided into three sections.
The first, Classical Historiography, deals with … "the production of historical works in Arabic that narrate events that took place in the past, from the hands of recognized authors belonging to identifiable traditions of writing who lived in the Arab heartland of the medieval Islamic world." The second section, Sacred History, features three essays that deal … "with histories that differ in style and purpose from those that fall within the realm of classical historiography." This category addresses the voices of distinct sectarian and group identities of people who were either on the fringes of the Muslim heartland or minorities in their Islamic milieus. The final section, Perspectives, "offers two essays with fresh approaches to historiography" ranging from an examination of documentary sources to methodological approaches to the field.
These works reflect the intellectual presence of the man they seek to honour. A Professor, who not only shaped my understanding of Islamic History, but who also, rose to be a friend.
Review by Charles Fletcher, PhD
---
Sami Massoud, Editor. Studies in Islamic Historiography: Essays in Honour of Professor Donald P. Little. Leiden ; Boston : Brill, 2020. 278 pages. https://mcgill.on.worldcat.org/oclc/1122685937
---