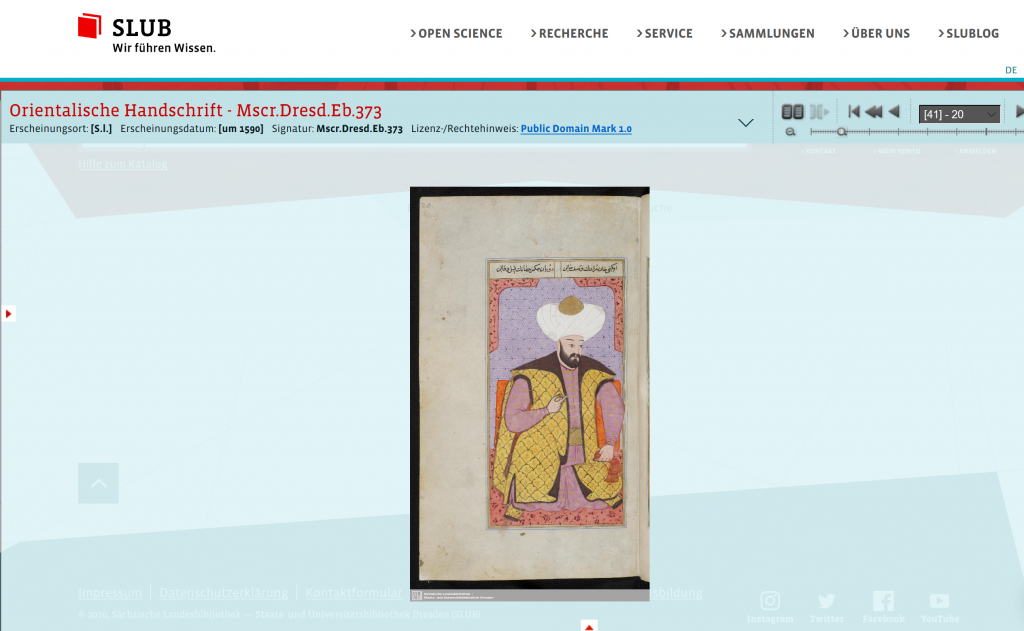 The Saxon State and University Library Dresden (SLUB) is a research library in Germany and its Oriental Manuscript collection houses a great collection of 448 Islamic manuscripts. The collection of Ottoman manuscripts was acquired by the library in the 18th and 19th century. This collection also consists of Tibetan and Mongolian as well as Chinese, Japanese, Indonesian, Sanskrit, Hebraic and Ethiopian manuscripts.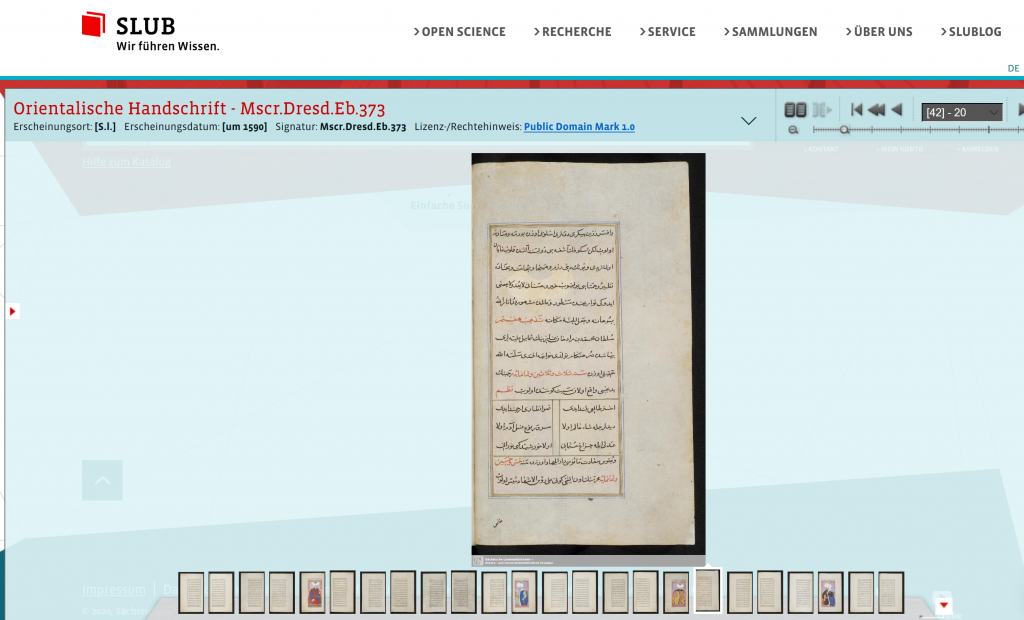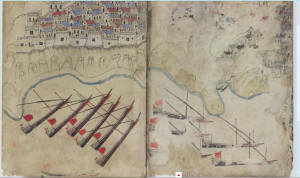 Some of the manuscripts in this collection are unique in terms of integrity of the item or rarity of its content for example. Below is the list of few items that was introduced as "Extraordinary Volumes" by the SLUB along with a description of the manuscript and a link to its digitized version.
Kitab-i Dede Korkut (Mscr.Dresd.Ea.86): The only fully preserved manuscript narrating national epic of the Oguzes, a nomadic Turkish tribe.

Mulana Fuzûli, Benk u Bâde (Mscr.Dresd.Eb.362): An Ottoman poem, written on rose paper, narrating a dispute about rank between wine and hash (cannabis).

Kemāl Paša-Zāde: Tevârîh-i Âl-i Osmân (Mscr.Dresd.Eb.391): The story of the Ottomans in a two-volume manuscript with 25 depictions of cities, fortifications and harbor facilities.

Seyyid Loqmān, Qiyā-fet al-insānīyeh fī shemā'il othmanīyeh (Mscr.Dresd.Eb.373): Book of the Ottoman Characteristics, containing 12 portraits of Turkish sultans.

Machsor mecholl haschana (Mscr.Dresd.A.46.a): Jewish prayer book for the High Holidays, in Southern German handwriting from the end of the 13th century.
Moreoverو "Catalogus codicum manuscriptorum orientalium Bibliothecae Regiae Dresdensis", is the inventory of most of Islamic manuscripts except the new acquisitions. This index was published in Leipzig in 1831 by Heinrich Leberecht Fleischer (1801-1888) and is available from here diglib.hab.de/wdb.php