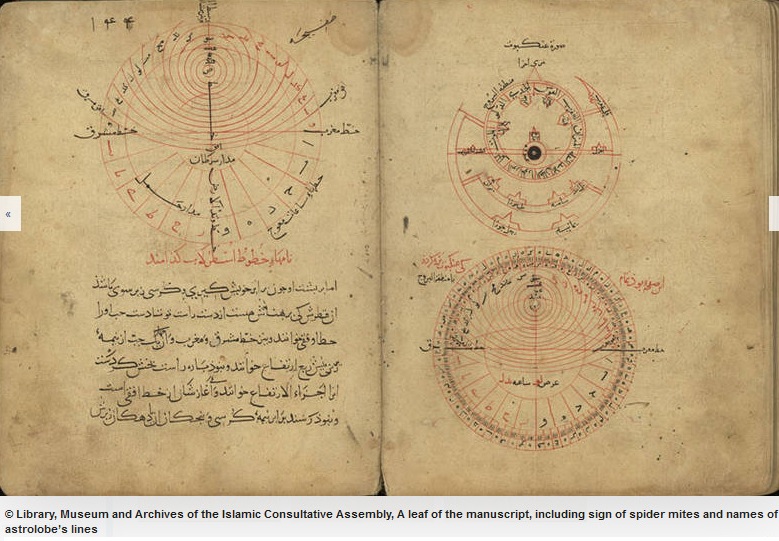 Al-Tafhim li Awa'il Sana'at al-Tanjim (التفهيم لاوائل صناعة التنجيم) is a Persian book of instruction in the elements of the Art of Astrology written by a celebrated Iranian scientist Abu- Rayhan al-Biruni, in 440-362HD/ 973-1048 AD.  It is one of the oldest texts in Mathematics and Astrology and has had a deep scientific influence on the world since most Iranian and non-Iranian scientists have made use of this text in their scientific works and papers.
The global significance and values of this book made it to be recognized as an outstanding World Documented Heritage by UNESCO's Memory of the World Programme and in 2011 its oldest existing manuscript in Persian was inscribed on UNESCO's list of documented heritage. (More information and Nomination file about this manuscripts is accessible here)
The main purpose of Al-Tafhim li Awa'il Sana'at al- Tanjim is to introduce the principles of astrology. The book begins with geometry and arithmetic and continues with astronomy and chronology, moreover Biruni explains the use of the astrolabe for astronomical and astrological purposes. This book consists of 530 questions and answers in an understandable manner for new learners of science. Each new topic starts with a question posed by an imaginary student and ends in an answer by an invented professor. Biruni wrote this book responding to Reyhanah's request – the daughter of Hussein/Hassan Khwarizmi in 420 HD/ 1029 AD.
What makes this book particularly precious and adds to its rarity is its scientific and linguistic significance, its physical specification and the time of its transcription – less than hundred years after author's death.
From the linguistic point of view this self-study on Astrology is considered an important work in Persian language since Biruni used the most original and oldest terms and expressions of the Persian language regarding history, traditions and chronology of the Iranians in this book. Moreover Abu- Rayhan al- Biruni used some figures and drawings in order to explain difficult mathematical and astrological concepts in a simplified manner; both the figures and the script were written in bright red and black color.
This manuscript has been digitized by National Library and Archives of Iran and is available on DVD and can be accessed at Islamic Studies Library at McGill.