Hi friends! Arabic calligraphy is one of the finest arts of Islamic culture. The illustrious Dr. Annemarie Schimmel noted calligraphy to be "an art which can be called without exaggeration the 'quintessential' art of Islam" (Schimmel in Highlights of Persian art. Richard Ettinghausen; Ehsan Yar-Shater, eds. 1979).
McGill is fortunate to have several hundred calligraphy specimens, including 200 in Arabic alone. This particular calligraphy piece is a Ḥadīth. Unfortunately the calligrapher did not autograph the work but we may guess that this is a later calligraphy piece, perhaps 18th-19th century. An interpretation of this particular Ḥadīth was recently commented on in al-ahram (Egypt).
The ISL, itself holds a number of pertinent resources in Arabic, English and other languages on Ḥadīth. One may find these through searching WorldCat using "su: hadith" (su stands for subject as in subject heading) to guide your search.
Enjoy!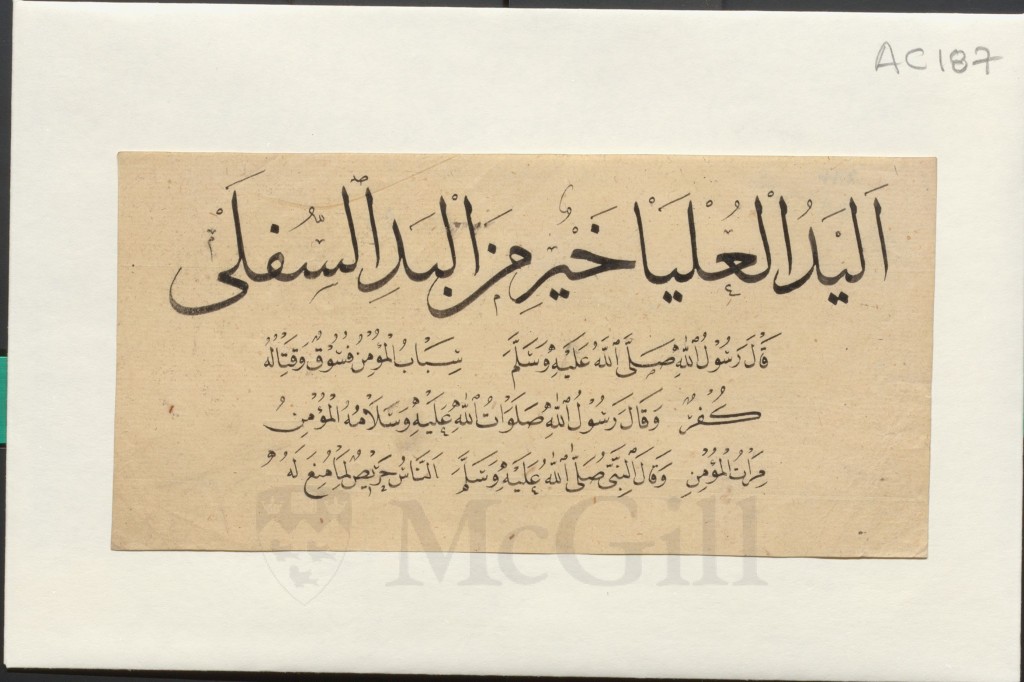 RBSC AC187