CREATIVE DISSENT: ARTS OF THE ARAB WORLD UPRISINGS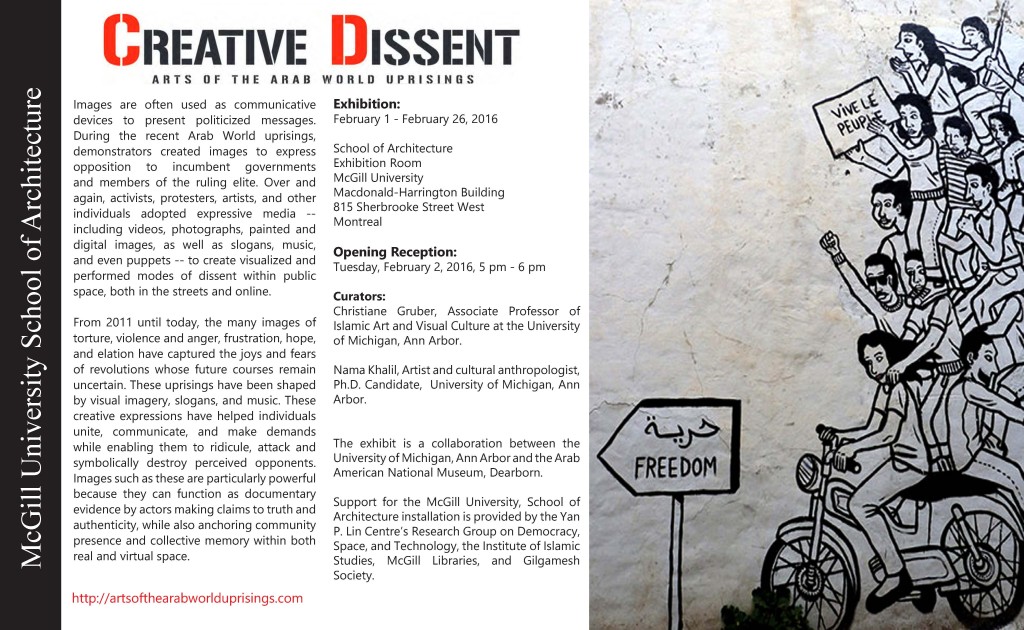 Exhibition:
February 1 – February 26, 2016
School of Architecture
Exhibition Room
McGill University
Macdonald-Harrington Building
815 Sherbrooke Street West
Montreal
Opening Reception:
Tuesday, February 2, 2016, 5 pm – 6 pm
Curators:
Christiane Gruber, Associate Professor of Islamic Art and Visual Culture at the University of Michigan, Ann Arbor.
Nama Khalil. Artist and cultural anthropologist, Ph.D. Candidate,  University of Michigan, Ann Arbor.
The exhibit is a collaboration between the University of Michigan, Ann Arbor and the Arab American National Museum, Dearborn. Support for the McGill University, School of Architecture installation is provided by the Yan P. Lin Centre's Research Group on Democracy, Space, and Technology, the Institute of Islamic Studies, McGill Libraries, and Gilgamesh Society.