The Minassian collection consists of numerous precious miniature paintings from the Persian, Mughul and Indian traditions. The manuscripts and miniature paintings of this collection are housed in John Hay Library at Brown University.
This collection is from the estate of Mrs. Adrienne Minassian the daughter of an active art collector and dealer of Islamic and Near-Eastern antiquities, Kirkor Minassian (1874-1944), he was based in New York and Paris in the early 20th century. Mrs. Minassian continued her father's legacy and she too was one of the few dealers of Islamic art in America. After her passing in a serries of bequests her collection was given to Brown University. To read more about Mrs. Minassian and her Father click here.
This collection is accessible online through the Brown University Center for Digital Scholarship.
The paintings often include text from Persian and Indian tales. Many of the illustrations within the Minassian Collection are depictions of stories from the classical Persian text, Shahnama of Ferdowsi.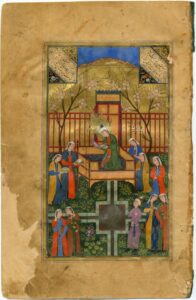 the collection can be browsed based on 3 Thematic Categories of Image and content, Material and Technique and Style and Type. Under each category there are more sub-categories. On the item level a description consisting of an abstract of the item and a note is provided, which present more detailed technical and historic information about the paintings style and content .