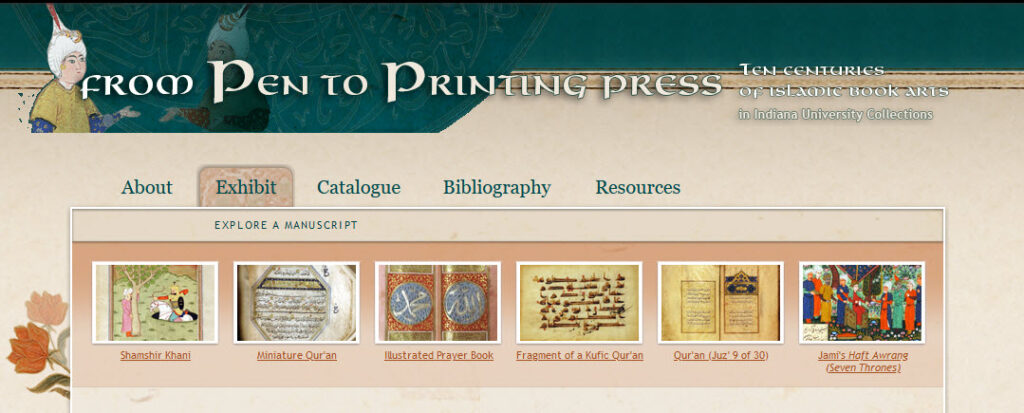 Is a permanent online exhibit*. This online exhibit is showcasing materials and tools of Islamic literate culture housed in Indiana University collections. It explores various categories of items including Pens, Inks, Modern calligraphies and Marbled papers, Persian and Mughal illustrated manuscripts, Miniature manuscripts and Scroll, Ottoman devotional works.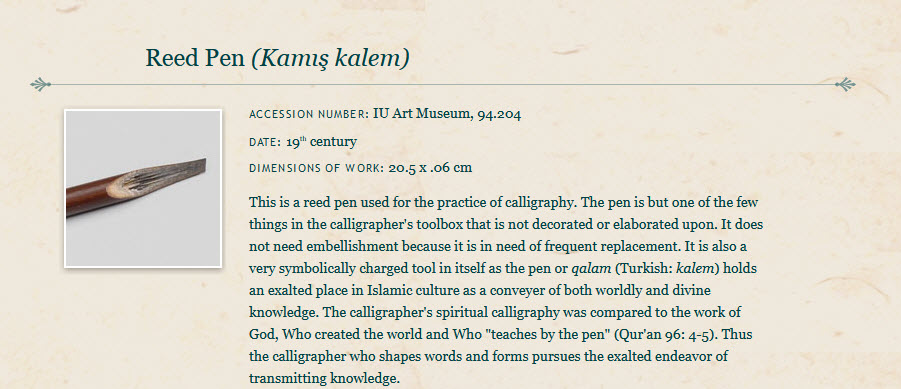 These various items/topics are presented in five main categories of Writing Implements and Materials, Manuscripts, Paintings and Illustrations, Miniature Manuscripts and Scrolls, Early Printed Books and Modern Revivals. Each category begins with a historical or background information on the topic and its various aspects and continues to introduce some of the significant sample/item in that category. Also, each item comes with detailed information regarding the physical description of the item, content, date and location.
"This Arabic-Turkish dictionary is the first printed book from the Müteferrika press. This book includes as front matter many of the legal documents the publisher acquired in order to receive permission to produce his printed books. These legal documents have been reproduced as front matter in each copy of this particular book."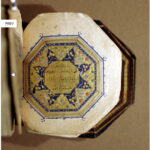 This online exhibit has also dedicated a section called "Explore Manuscript" to six manuscripts specifically, in order to provide a visual overview of Islamic manuscripts, manuscripts illumination. Some of these six item are religious text some are literary work and they showcase artistic and thematic forms of Islamic book art traditions.
These selected manuscripts are consists of Shamshir Khani (Near Eastern mss Firdawsi Shahnama), Jami's "Haft Awrang", a Miniature Qur'an, an Illustrated Prayer Book (Duʿaname), Fragment of Kufic Quran and Qur'an (Juz' 9 of 30) and their formal and decorative elements such as bindings, illuminated frontispieces, chapter headings, and illustrations have been highlighted.
"This single folio painting, extracted from a manuscript or album, depicts a kneeling man in half-profile. The sitter is wearing a highly embroidered robe and bears a dagger upon which his right hand rests. The embroidered robe and ornamented dagger both help identify this person as a high ranking Mughal official. The sitter's clothing and jewelry are rendered with great detail, as is the bowl and the fabric of the pillow. The background consists of a green hill with scattered trees and a grey cloudy sky. This portrait probably dates from the Jahangir (1605-27) period or the early Shah Jahan (1627-58) period. Jahangir period paintings are recognizable by their forest green backgrounds. Likewise, many albums were made which include the portraits of court officials."
* "This permanent online exhibit is an adaptation of the Indiana University Art Museum special exhibition, From Pen to Printing Press: Ten Centuries of Islamic Book Arts on display March 7-May 10, 2009." https://web.archive.org/web/20180521060600/http://www.iub.edu/~iuam/online_modules/islamic_book_arts/exhibit/index.html