Launched in 2002, the Nakba Archive is an oral history collective based in Lebanon aiming to document the social and cultural lives in Palestine before 1948. Over the years, the Archive interviewed over 650 first generation Palestinian refugees in Lebanon, and recorded "their recollections of life in Palestine and the events that led to their displacement." The primary objective of the Nakba Archive has been to complete existing written record by allowing refugees to document their histories in their own terms.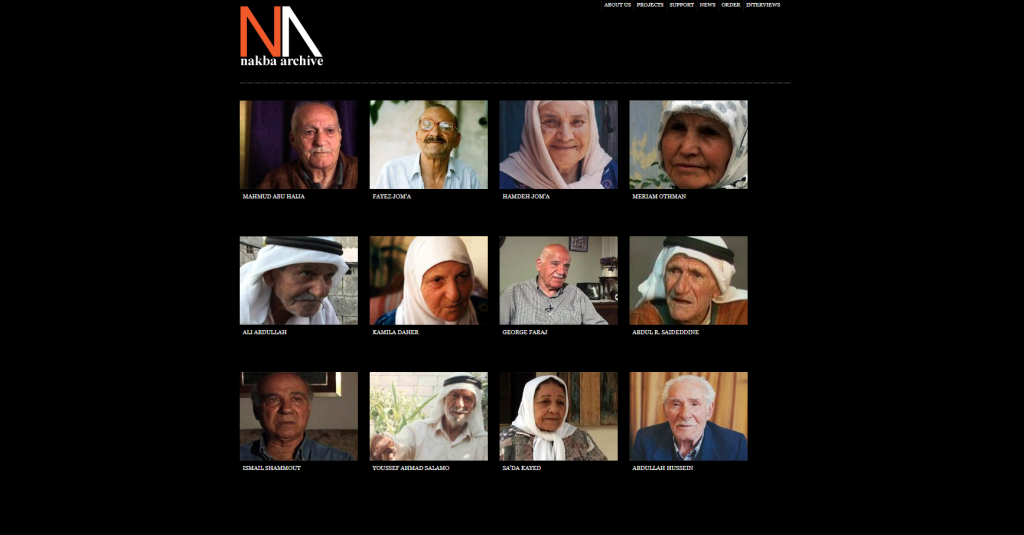 "Diana Allan founded the Nakba Archive in June 2002. She has a doctorate in anthropology and film from Harvard University and has worked on a several activist media projects in the region. Video documentaries include: Chatila, Beirut (2002); Still Life (2007); and Terrace of the Sea (2010)." She is currently an Associate Professor in Anthropology & Institute for the Study of International Development (ISID) at McGill University. Co-founder and manager, Mahmoud Zeidan, is a Palestinian refugee from Ayn al-Helweh camp in Lebanon and active member of the Lebanese Center for Refugees Rights Aidun.
Despite not having been updated in a very long time, the Nakba Archive website remains a valuable source of information on where to find, and how to access the interviews conducted in its early years. A few excerpts have been made accessible from the NA website, but the vast majority of the audio and video recordings can today be found in the Jafet Library (American University of Beirut):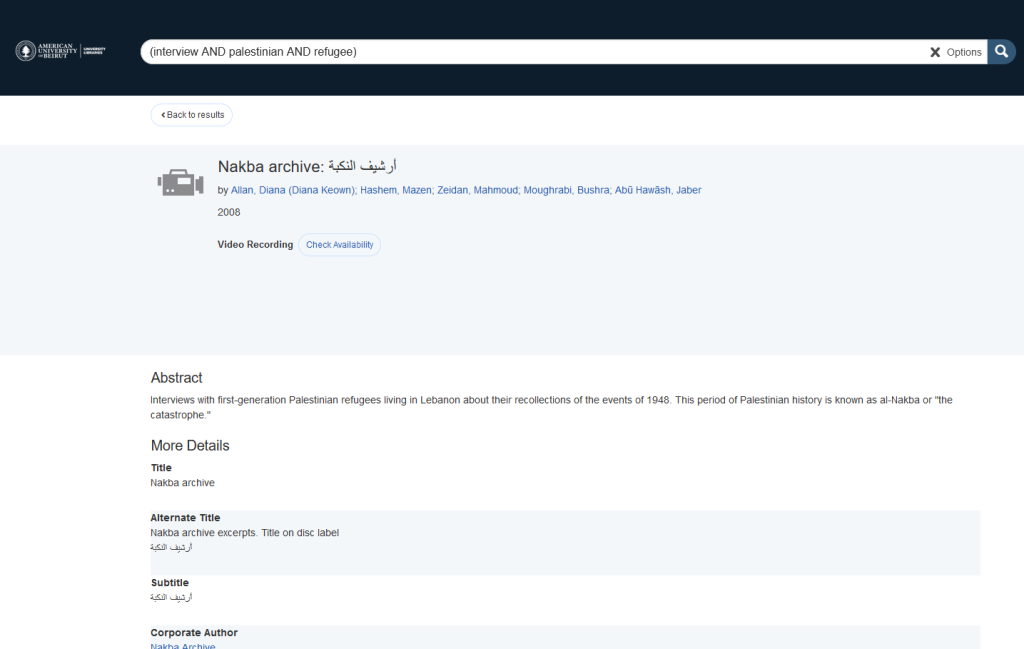 Another part of the the project, Photo48, included scanning "personal photos and documents (registration papers, land deeds, marriage licenses, birth certificates, etc.) which refugees brought with them from Palestine." Unfortunately, these materials don't seems to have been made available online anywhere. Interested people could always reach out to the Nakba Archives founders to inquire about them.
Last, the Nakba Archive produced in 2005 and 2008 two documentaries about archival work that can be ordered from the website, or found in your library: Nakba Archive Excerpts is available at McGill University Library.