The Walters Art Museum's collection encompasses art from various cultures extending over seven thousand years. Many of the items in their collection can be explored through their website at works of art site and Walters Ex Libris.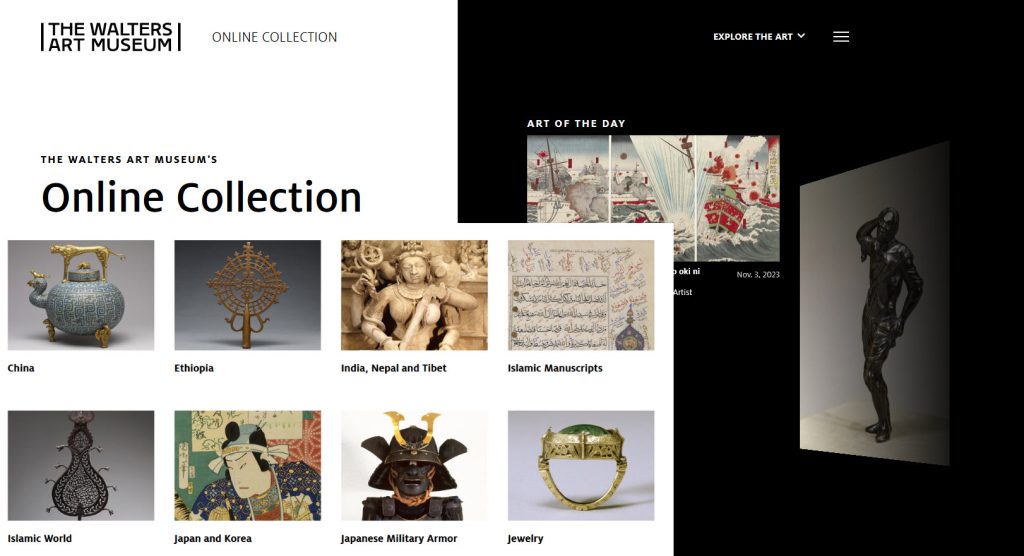 Beyond a wide range of artistic objects, their collection includes manuscripts and artwork on paper, as well as books and remarkable pieces of Islamic art. This includes valuable items like miniature paintings, beautifully illuminated Qurans and etc.
Moreover, the Museum is house to" 900 printed manuscripts, 1300 incunabula and 2000 rare books". Of these, 433 manuscripts and more than 8000 printed papers are digitized and accessible through Walters Ex Libris. These manuscripts cover a variety of periods, including works from the Safavid, Mughal and Ottoman empire.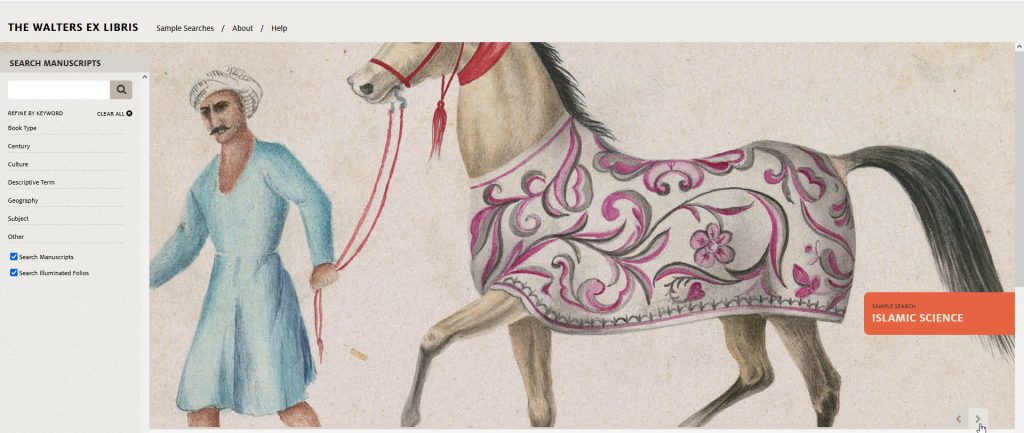 Moreover, as a museum dedicated to education, storytelling, and fostering community engagement through knowledge and cultural expression, the Walters Art Museum is actively digitizing and making their collection accessible to the public. Some of their digitized exhibitions also serve this purpose. One such exhibition, 'Poetry and Prayer: Islamic Manuscripts from the Walters Art,' beautifully showcased a variety of books, manuscripts, and individual art pieces. This collection includes beautifully illuminated manuscripts featuring poetry, prayers, miniature art, the Quran, and more. Each item has been digitized, and an informative description is offered.
While exploring this specific exhibition along with some of their digitized manuscripts, we noticed some similarities or common characteristics between their displayed materials with some of the manuscripts and rare books available at Islamic Studies Library rare book collection. Thus, we decided to highlight some of them as an example.
However, there are many more similar cases to be explored. Some of McGill Islamic Studies Library's digitized manuscripts and rare books can be found here. The Walters Art Museum manuscripts can be found here.
For example, this Mughal color-wash drawing (portrait of Lal Kunwar) at the Walters Art Museum and this miniature of a princess at McGill Rare book collection, have various elements in common, while created in different time.
……………………………………………………………………………………………………………………………Additionally, these two manuscripts seem to share many characteristics. Both are Persian poetry books, featuring similar calligraphy styles and very comparable ornate illuminations. However, one ("Yusuf and Zulaykha" by Jami) is housed at the Walters Art Museum, and the other one (poetry book by Hafiz ) is at McGill Rare Books. Are these two manuscripts made in the same manuscript workshop but, in the course of history, ended up in two different parts of the world?
These two painting share some similarities as well while the miniature of the Mughul Emperor is housed at McGill and the portrait of emperor Jahangir is at The Walters Art Museum.