Reading Muslim is an inter-and multi disciplinary project funded through the university of Toronto's Connaught Global Challenge Grants Program.
Reading Muslim project is a Network of academics, scholars and researchers, and is re-examining the place of textuality in the Islamic Studies. This project is aiming to "elevate the understanding of Islam, Muslims and society", by examining a set of methodological and political questions about the Islam today through the lens of textuality.
"Who are the privileged readers of Muslim texts?
What is the relationship between texts and Islamic tradition?
Who gets to decide the relationship between textuality and orthodoxy?
How do texts support the legal and bureaucratic institutions of the modern state in its project of governance?"
This project provides access to three different types of content such as articles, podcasts and videos. Each item provides an introduction about the author along with the full access to the content.
"Reading Muslims begins from the premise that consideration of texts and textual methods are indispensable to the study of Islam. Islam began with a book : al-Kitāb, the Qur'anic revelations. From this first textual experience came others: Qur'anic exegesis, the Law, Sufism, etc. Islamic studies scholars, whether Muslim or not, read Muslim texts to understand the Islamic tradition. But they also read Muslim bodies and practices through an ethnographic lens. And, to make things more complicated, they read Muslims as readers of their texts, paying attention to various interpretations within Muslim communities."
This platform is comprised of four research hubs. Hub 1: Muslims as Readers, Hub, 2: National Security and Anti-Muslim Racism, Hub 3: Reading Practices, Hub 4: Anthropology of Islam. Under each hub researchers and community partners are looking "textuality in Islamic studies and its place in the formation of community identities in dynamic societies."
Each hub provides a brief introduction to the aspects that will be examined, name of the researchers and community partners as well as access to the various available contents through the Reading Muslims platform.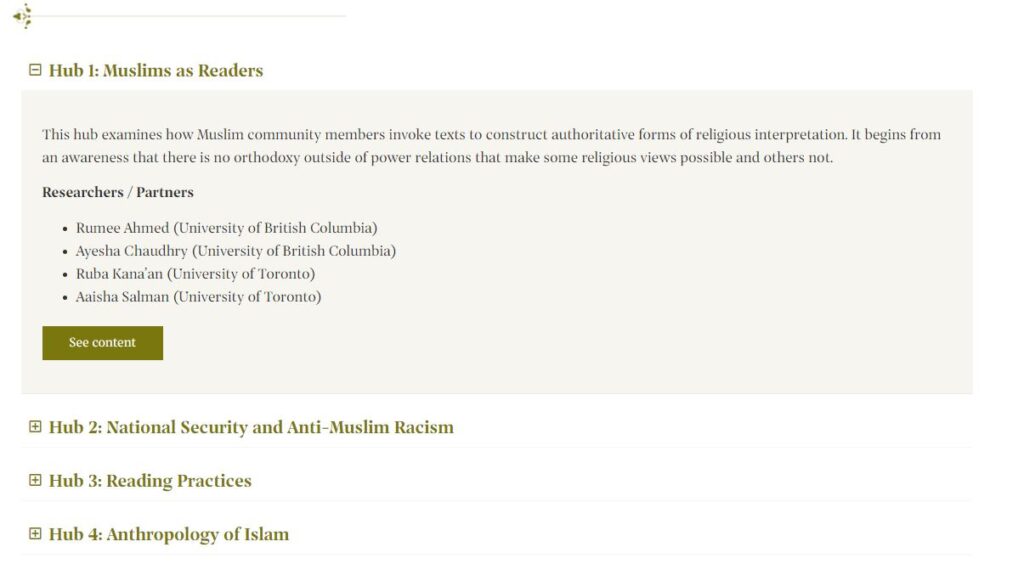 Moreover, Reading Muslims provides information about their upcoming events on their website.