RIWAQ is a non-profit organization funded in 1991, and its goal is the protection and development of Palestine's architectural heritage by documenting and restoring architectural heritage sites and buildings.
Documentation of Palestine history and cultural heritage have been challenging throughout its history. Primarily because of the destruction of many of architectural and cultural heritage, especially during Nakba (1948) where many of Palestine's cultural heritage sites were destroyed along with villages, buildings, etc. Secondly due to lack of accurate and scientific registry of architectural heritage, in other words, due to various reasons such as the impact of the system of power, or colonialism, it seems that even the existing documentations of Palestine's heritage have been conducted to serve a mission or an agenda and not necessarily to serve scientific purposes.
Therefore, in response to the great need in documentation, preservation, and discovery of Palestine's cultural heritage, public space enthusiasts and heritage activists established RIWAQ. At first it was formed as a project called RIWAQ Registry of Historic Buildings in Palestine, which resulted in creation of a database of historic buildings in Gaza Strip, West Bank, especially to register the most endangered components of cultural heritage.
Later, between 1994 to 2004, 50320 historic building were documented by RIWAQ registry from various villages and cities, which later was also published in three volumes. Moreover, the field work conducted by RIWAQ team resulted in creation of 400 GIS map and a collection of photographs.
RIWAQ's archives contains a rich collection of over 50000 analog photographs and more than 100,000 digital photographs. This collection presents Palestine's documentary heritage from 1980's and show cases its transformations.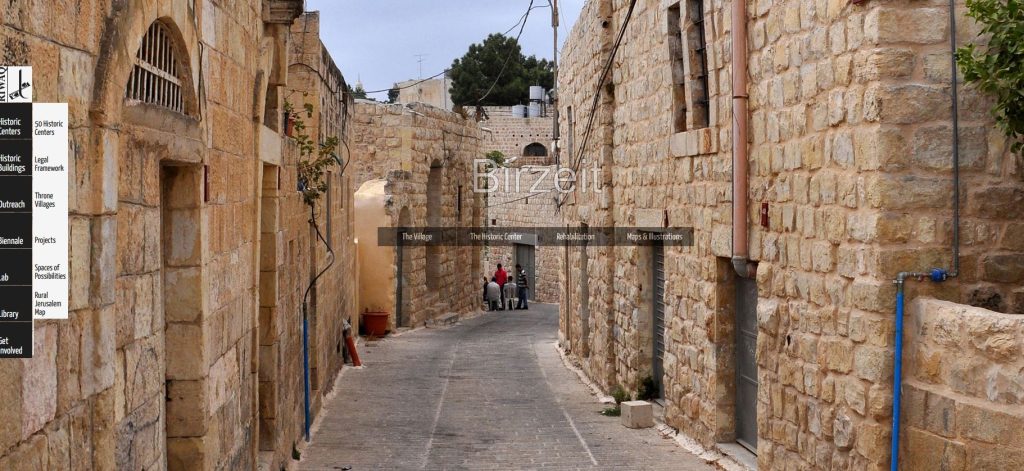 "Archives are perceived as the memory of a nation archival documents, transcripts, photos, and maps narrate the everyday life of a given society. They bear witness to the main crucial turning points in the history of society."1 Thus RIWAQ's archive is an important and valuable source of information/knowledge to Palestine's cultural heritage.
However, RIWAQ's work is not limited to documentation of historic and architectural sites, but their work changed the paradigm in the field of heritage from economic, social, and environmental liability into an important tool for economic and social change. Their focus has been mainly on the rural areas and by taking on restoration of villages in Palestine they also helped job creation along with preservation of the cultural heritage sites. Moreover, their project helped raising awareness about the role of cultural heritage in Palestinians identity.
"Through its work, RIWAQ has succeeded in responding to the vital question of what it takes to rehabilitate an entire town, not only physically, but socially, culturally, and economically."2
To this end, an interesting and interactive map of Jerusalem's rural areas has been created. This map is a collection of sketches documenting oral history in that area.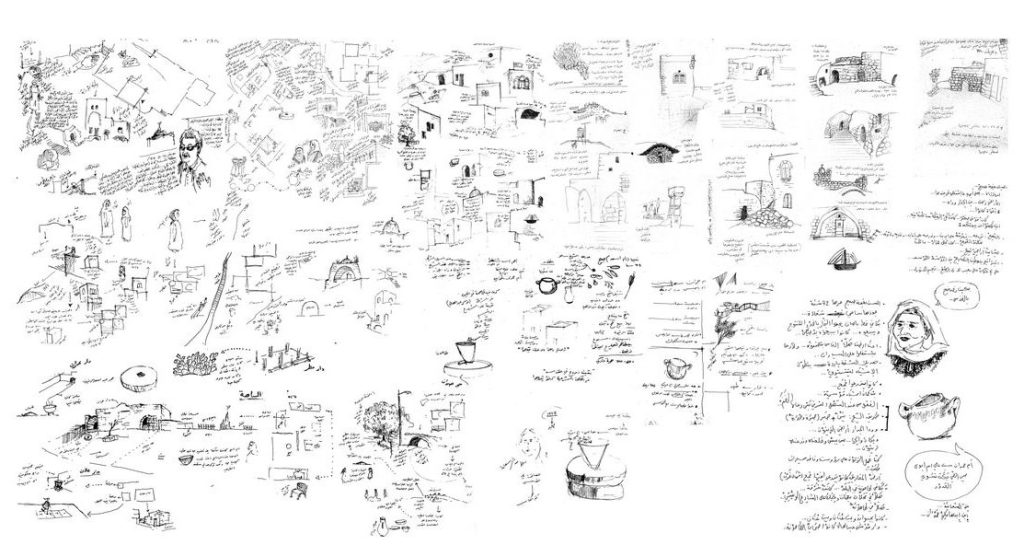 By clicking on different parts of the map user will have access to a more data that narrates an object's history, a popular vocation at the time or an artifact, etc. It also provides information about where the data is collected with the name of the narrator as well as pictures of those places and more detailed drawings.
Besides their active role in documentation and restoration of cultural and architectural heritage, RIWAQ also offers workshop and training in specialized topics and techniques such as the structural analysis of stone structures, traditional iron works, mural paintings, and photometry to those interested in working in restoration field.
Riwaq won the prestigious Aga Khan Award for Architecture.
RIWAQ's website provides access to a wide range of different types of information, such as maps, photos, articles, etc.