In this post, two Persian language textbooks will be introduced, they both can be accessed at Islamic Studies Library of McGill.
Persian In Use is an elementary Persian language and culture textbook for learners at college level and is written by Anousha Sedighi and published at Leiden University press.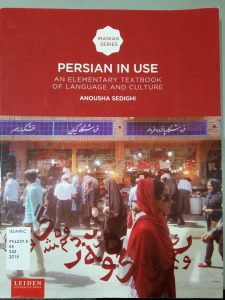 This book is designed thematically and offers 10 lessons starting with Alphabet and sound system, covering both written and spoken varieties. Persian In Use offers more than 1200 words and phrases covering highly in use slang, proverbs and idioms; as well as simple explanations of the grammatical features. The daily interactive dialogues provided in this book, help students to learn about contemporary Persian language usage. Literary texts, poems plays, film scripts, and pop songs are offered along with cultural notes. Persian In Use's goal is to teach and improve learner's communication skills therefore it provides all four skills of reading, writing, listening and speaking. Students can access to audio materials from companion website: https://sites.google.com/a/pdx.edu/persian-in-use/Audio-Files/lesson-1.
Persian In Use can be found on the library catalogue from here.
———————————————————————————————————
The Routledge Persian course: Farsi Shirin Ast is a Persian language textbook in two part of  (Introductory and Intermediate) and is written by Pouneh Shabani Jadidi and Dominic Prviz Brookshaw. This book is designed mainly for teaching Persian language at university level, though it is a user-friendly language book.
Teaching approach of the book is focused on communicative competence as oppose to the traditional approach of focusing on development of grammatical competence in learning a second language. To achieve its goal the book offers 15 lessons. Each starts with a question as a title followed by new vocabulary and a dialogue (Introductory level) or a text (Intermediate level). Grammatical points are explained and some exercises are offered at the end of each lesson. Audio materials are accessible through companion website Introductory, Intermediate.
Islamic Studies Library of McGill owns these books and they can be found on the catalogue from here for the Introductory and here for the intermediate one.