Allama Iqbal Poetry کلام علامہ محمد اقبال is a website established by a team of freelancer gathering all Iqbal's Poetry works in one place.
This page provides free access to a complete collection of Urdu and Persian Poetry of Allama Iqbal, as well as English translation, transliteration and Urdu explanation of the poetries.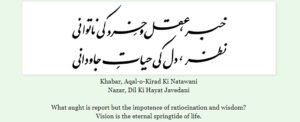 Muhammad Iqbal (9 November 1877 – 21 April 1938) known as Allama Iqbal was a leading and prominent Persian and Urdu poet of India in the first half of the 20th century. He was also a distinguished philosopher, theorist, and barrister in British India, and he was known to be the "Spiritual Father of Pakistan" because of his contribution to the nation.
His poetry works are cherished internationally among literature scholars' community as well as among Indians, Pakistanis, Iranians, Afghans and Bangladeshis. Along with his fame as a poet, he is also known as one of the Muslim philosophical thinkers in the modern era therefor his Urdu and English lectures and letters, believed to have been important in political, social, religious and cultural discourses.
To read more about Allama Iqbal and his work, Encyclopedia Iranica has an article about him, access here.

Allama Iqbal Poetry is a searchable website with the possibility of searching for words, couplet, verse and shair in Iqbal's poetry. Moreover, these 11 complete Urdu and Persian books of him are accessible to be browsed too.
Pas Che Bayad Kard & Musafir Masnavi (پس چہ باید کرد اے اقوام شرق بمعہ مسافر مثنوی) – What Should Then Be Done O People of East & The Traveller