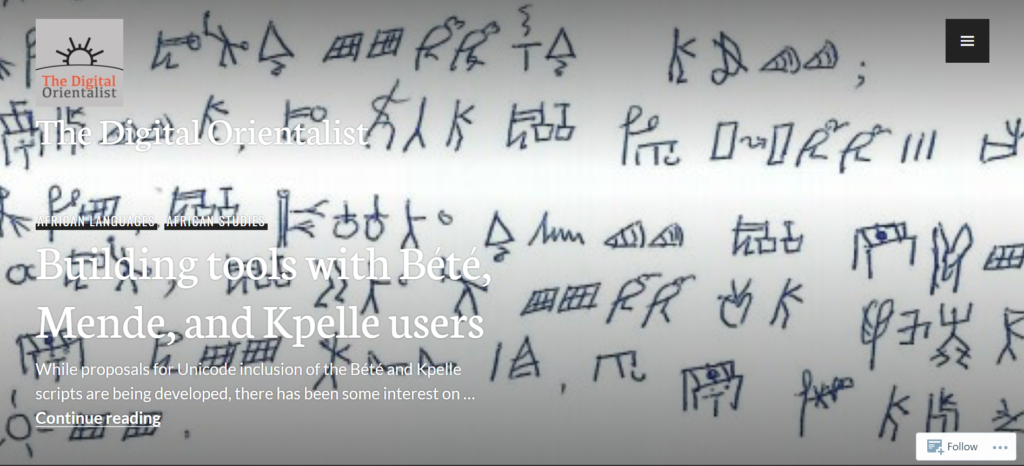 The Digital Orientalist is an online magazine focusing on digital humanities applied to the large field of "Oriental" studies. It was founded in 2013 by a McGill Institute of Islamic Studies alumn, L.W. Cornelis van Lit, who has been using "computer-supported-solutions" in his own research on post-classical Islamic philosophy for years.
"Our name The Digital Orientalist, may raise an eyebrow. We are all fully aware of the contentious meaning of 'Orientalism' and its relation to colonialism. We are of the opinion that enough years have gone by to pick this name up again, to convey in one word the relation between our fields of studies. In this sense we mirror similar initiatives like The Digital Classicist, The Digital Medievalist, The Digital Humanist, etc." Excerpt from the "About" page of The Digital Orientalist.
Today, The Digital Orientalist is run by an editorial team of twenty scholars, librarians, and students sharing their thoughts on digital tools, and practical experiences using them in the Humanities. The blog format allows visitors to access publications either by geographical areas or by topic. Areas covered are:
As for topics, they range from digitization to textual analysis, passing by archiving, data visualization, digital cartography, coding, etc.:
In sum, The Digital Orientalist provides not only informed insight on digital tools, but also practical guidance as to how using them to best support the study, teaching and research in "Oriental" studies. As such, it is an invaluable resource for anyone interested in Digital Humanities and Area Studies, in particular those cited above.
For news and updates, please see Twitter and Facebook: