…and the reading is easy!
What do you read in the summer? Is summer the time for light literature? Is it your chance to catch up on unread classics and recent bestsellers? Or with more time off and longer days, is now the time you delve into chunky epics or challenging nonfiction?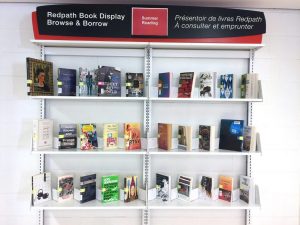 No matter what Summer Reading might mean to you, you will find something to suit your taste on the current book display at the Humanities and Social Sciences Library. Up until the end of August, this display brings together literary and genre fiction as well as food writing, art books, folk tales, local lore, essay collections, travel memoirs… et oui, il y a des titres en français parmi la sélection.
This summer's very eclectic collection has something for everyone, and will give you a glimpse of how diverse the library's holdings are. Come by, browse, borrow, and repeat! To check out what titles we've put together for you, take a look at this list.