Now that spring is here and the roads are cycle ready, our thoughts turn to long bike rides in the sunshine!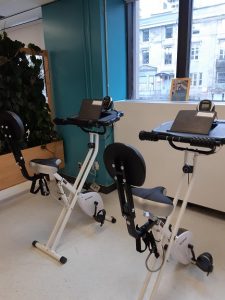 Now you can do that while studying, on the new bicycle desks just installed in the Redpath Library.
A pilot project brought to students by Exercise is Medicine (EIMC@McGill).  Jointly founded in early 2014, by McGill Faculty of Medicine and Faculty of Kinesiology students, this group is reaching out with events and initiatives on campus focusing on student wellness and activity, helping to make exercise a key part of the McGill education and experience.
The group has raised money for two FitDesks and you are now able to try them out in the Library, as you finish off coursework and study this term. Be sure to take a few moments to offer your feedback on the FitDesks!