The McGill Farmer's Market is the source of our community's local fresh food and goods located right outside of McLennan-Redpath Building Complex. While we said goodbye to the wonderful vendors in the fall, they are BACK! At the end of this week is the McGill Winter Farmer's Market, hosted in the SSMU Building. ❄️ After you get all your goodies, crack open an online cookbook in our catalogue and enjoy.
Highlighted below are just a few of the contemporary recipe & cookbooks we have in our collection to make nourishing ourselves during this time a little more exciting. ROARr also has a special collection of older cookbooks that are very fun to look through. 
The new Mediterranean Jewish table : Old World recipes for the modern home by Joyce Esersky Goldstein.
For thousands of years, Jewish people have lived in a global diaspora, carrying culinary traditions bound by kosher law. For many, Ashkenazi and Sephardic cooking define Jewish cuisine today, but in The New Mediterranean Jewish Table, Joyce Goldstein expands the repertoire with a comprehensive collection of over 400 recipes from the greater Mediterranean, including North Africa, Italy, Greece, Turkey, Spain, Portugal, and the Middle East. By bringing Old World Mediterranean recipes into the modern home, Joyce Goldstein will inspire a new generation of home cooks as they prepare everyday meals and build their Shabbat and holiday menu
The Hakka cookbook : Chinese soul food from around the world By Linda Lau Anusasananan

Veteran food writer Linda Lau Anusasananan opens the world of Hakka cooking to Western audiences in this fascinating chronicle that traces the rustic cuisine to its roots in a history of multiple migrations. Beginning in her grandmother's kitchen in California, Anusasananan travels to her family's home in China, and from there fans out to embrace Hakka cooking across the globe-including Hong Kong, Taiwan, Singapore, Malaysia, Canada, Peru, and beyond. More than thirty home cooks and chefs share their experiences of the Hakka diaspora as they contribute over 140 recipes for everyday Chinese comfort food as well as more elaborate festive specialties.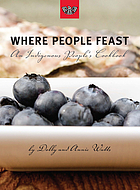 Where people feast : an indigenous people's cookbook By Dolly Watts & Annie Watts
The food traditions of North America's indigenous peoples are centuries old and they endure to this day. For almost two decades, Dolly Watts and her daughter Annie have served native cuisine that is both traditional and modern; for them, Where People Feast, one of very few indigenous cookbooks available, is the culmination of a lifetime dedicated to introducing people to extraordinary foods that are truly North American. Recipes include Smoked Salmon Mousse, Indian Tacos, Venison Meatballs, Alder-Grilled Breast of Pheasant, Blackberry-Glazed Beets, Wild Rice Pancakes, and Wild Blueberry Cobbler. Includes sixteen full-color photos and 120 recipes.
You can also check out the few recipes the McGill Farmer's Market has curated on their website for an extra treat. The whole list can be consulted here as well. 
We hope this inspires you for the next dinner party! Another great idea is to pick a recipe and cook it as a treat once you finish your next big assignment. You got this!
Happy Cooking!