Iranologie.com is created by Khodadad Rezakhani, a scholar of late antiquity and the early medieval period, mostly in West and Central Asia. He created this site with a focus on Iranian history and is aiming to provide information about history and culture of Iran as well as about "Iran as a modern nation-state".
The main feature of the website is "The History Page" which is the access point to the main content on the site about Iranian history categorized in three eras of: 1. From the Ancient Times to 650 CE, 2. From Islam to the Safavids, 3. From the Safavids to Modern Iran.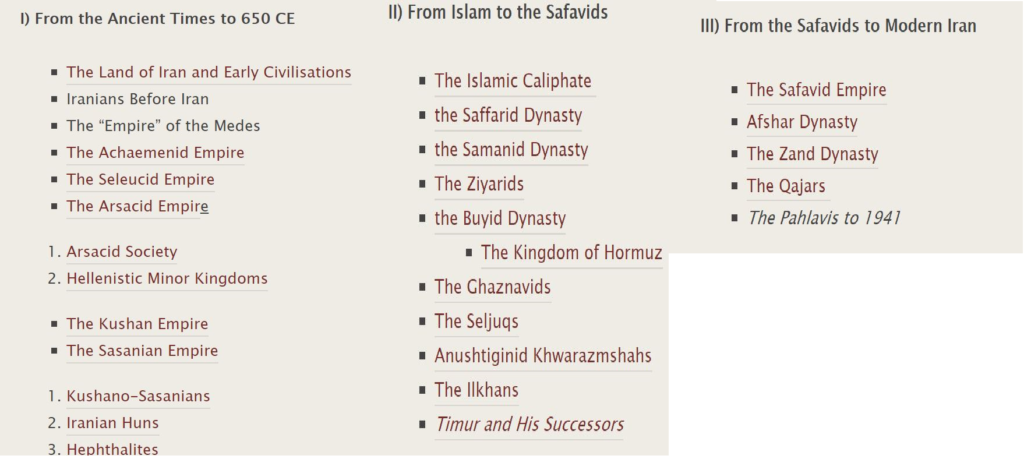 Khodadad Rezakhani, the creator of the site, has a PhD form UCLA in late antique Near East and he is a professional academic dedicated to teaching , researching and writing. He describes the reason for initiating this project as :
"However, I have a deep interest in bringing academic research to the public and find producing knowledge for purely academic audiences to be undemocratic and against the spirit of knowledge. As such, I try to engage in anyway I can, giving interviews to TV and Radio programmes and appearing on various segments dedicated to history. But more than anything, I try to use the internet, and have done so since 1996 (!) to engage, through my podcasts and my weblog, and make sure that what me and my colleagues are working on does not remain behind the locked doors of academic journals."
Iranologie.com is host for the History of Iran podcast and history Podcast in Persian. Both podcasts cover Iranian history fro pre-Islamic to Islamic and modern ear, one in English and the latter in Persian language. Moreover, all sources and additional materials that were referenced in the podcasts can are listed on Podcast section of the site.
In addition to the History and two valuable podcasts, recently, the author of Iranologie.com also created a new project on Twitter, " @historianofIran, which is a rotating weekly account where different scholars of Iranian history, culture, and languages write about their work for a week at a time".

last but not least, historical issues are discussed mostly by the author both in English and Persian in the form of a blog and can be accessed on Iranologie.com here.