One of the main roles of today's academic libraries, besides acquisition and classification of information materials, is facilitate access and -when necessary- provide guidance and training on how to access resources and information through a wide-range of digital tools and services or online platforms.
It may appear that technological development and digital tools have broadened our access to information, but sometimes we need guidance on how to use these tools to be able to benefit most from them. In order to avoid any unnecessary complication in accessing resources, libraries usually help users by creating step-by-step guides on how to use these tools. In the event of the COVID-19 pandemic, most library services moved online, and so did library guides and tutorials. Over the Summer, the Islamic studies library team produced video tutorials on how to use three important library tools and services: the Hathi Trust Emergency temporary access (ETAS), the McGill Virtual Private Network (VPN), and Islamic Studies library Subject Guides.
In this blog post, we will briefly introduce these tutorials.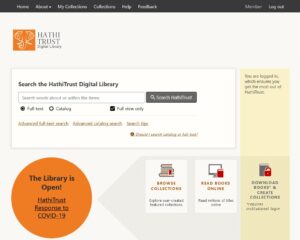 "Hathi Trust digital library is a partnership of academic and research libraries offering a collection of millions of titles digitized from libraries around the world." However, In response to this pandemic, this platform provided a new service in order to provide support for research, teaching and learning during the time of interrupted library services. As such, Hathi Trust Emergency Temporary Access Service (ETAS) provide access to digital material that corresponds to physical material that is held by the libraries. So for McGill library material over two million books from library's print collection made available online, which counts for over half of McGill's print collection. This temporary service is only available to McGill students, staff and faculty.
To learn how you can benefit the most from this service, and some tips on how to access the digital books, please watch the video:
McGill Virtual Private Network or VPN is one of the services/methods that provides students, faculty and staff with remote access to Library e-materials. For example, they can access e-books, or e-journals, etc., while they are not on Campus.
Please note that only some of the Library's e-resources requires VPN connection to grant you access, the rest of e-resources will simply ask you to login with you McGill credential and then you will have access to that e-material.
Whether you chose to or you were required to use VPN to access library's e-resources, you need to install and configure VPN on your computer/device and set it up. In this video, we will show you how to do this, and where to find the help that might need.
3. How to use McGill Islamic Studies Subject Guides
In doing research we need various range of resources tailored to our very specific topic, more over we need different types of resources from primary resources to online or open access materials and print resources.
Subject guides are one of the useful services that are usually created by the specialized librarian and link you to various resource available in your topic. Islamic Studies Subject Guide is tailored to the courses offered by the McGill Institute of Islamic Studies and is consist of 11 guides related to Islamic studies topic such as Islamic history, Islamic languages: Arabic, Persian, Turkish & Urdu, Middle East history, Ottoman & Turkish studies, Islamic thought and science and etc,. Each Guide provides a list various relevant and current resources that are available at McGill library or elsewhere.
In the event of COVID-19 pandemic, Islamic Studies specialized librarian created a comprehensive list of relevant resources that are available online or can be accessed remotely.
In this video we will show you where to find these guides and how to use them.
Should you have any question about or need any help with one of these tools and services, make sure to contact us at either: islmcirc.library@mcgill.ca or anais.salamon@mcgill.ca.
Credits:
Blog post editor: Anaïs Salamon, Head Librarian;
Videos credits: Islamic Studies Library team : Anaïs Salamon, Head Librarian; Dr. Charles D. Fletcher, Head Library Clerk; Samah Kasha Senior Library Assistance and Ghazaleh Ghanavizchian Senior Library Assistance