AlKindi: is a union catalogue of written religious and cultural heritage of the Middle East, that combines in one catalogue the collections available in Dominican Institute for Oriental Studies, Institute of Arabic Manuscripts and Fscire Research Institute and Library on the History and Doctrines of Islam (Palermo).
Each of the three library holds rich collections of resources on Islamic topics, culture, heritage, authorities, and the intellectual work of prominent Islamic scholars.
The library of the Dominican Institute of Oriental Studies (IDEO, Cairo) focuses on the Arabic Islamic sources of the first millennium Hiǧrī. IDEO's library houses 150,000 monographs and about 1,800 journals and periodicals covering various disciplines such as Arabic language, Quranic exegesis, theology, law and jurisprudence, history, philosophy, sufism, history of sciences.
The Institute of Arabic Manuscripts focuses on manuscripts in microfilm or in digital format and presents manuscripts in the field of classical Arab manuscript heritage.
The Fscire Research Institute and Library on the History and Doctrines of Islam (Palermo) focus is on exhibiting the linguistic, doctrinal, and cultural diversity of Islam.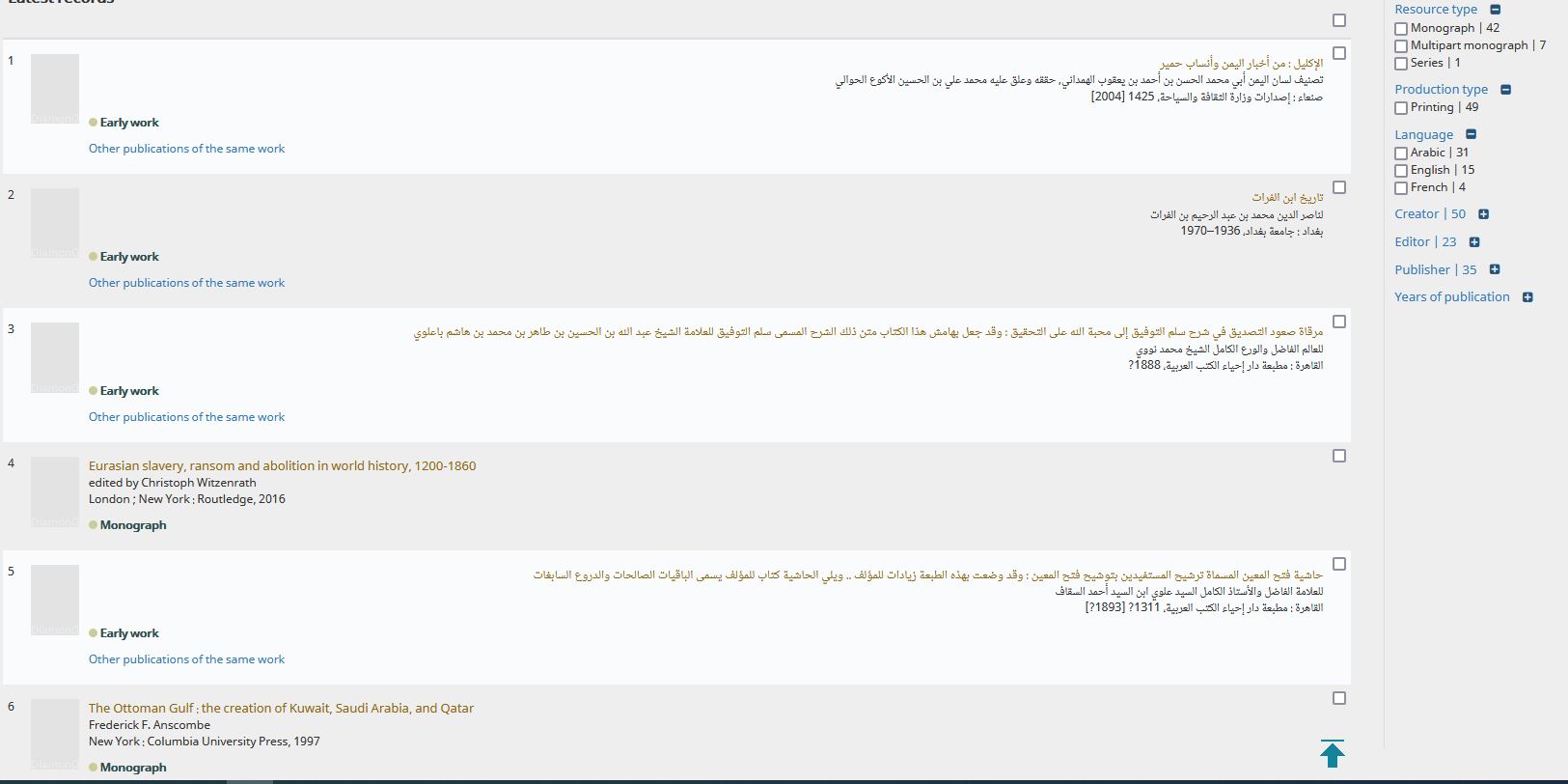 Alkindi created a searchable index for accessing bibliographic information on various valuable resources available at the above-mentioned libraries. Thus, scholars and researchers can map various primary and secondary resources. Alkindi also "aims to describe the genealogy or literary descent of a medieval work through the links that the works foster between them."
Alkindi has launched a new version that complies with the conceptual model proposed by the International Federation of Library Association (IFLA) called FRBR. This new version provides 4 level of information for items and creates connection between different levels of information for items which provides users with a better search result.
On the search result page, bibliographic information is presented in the language of the source which can range from Arabic, English, French to Spanish and other languages. Moreover, the type of the material is specified whether it is series, early work or a monograph.