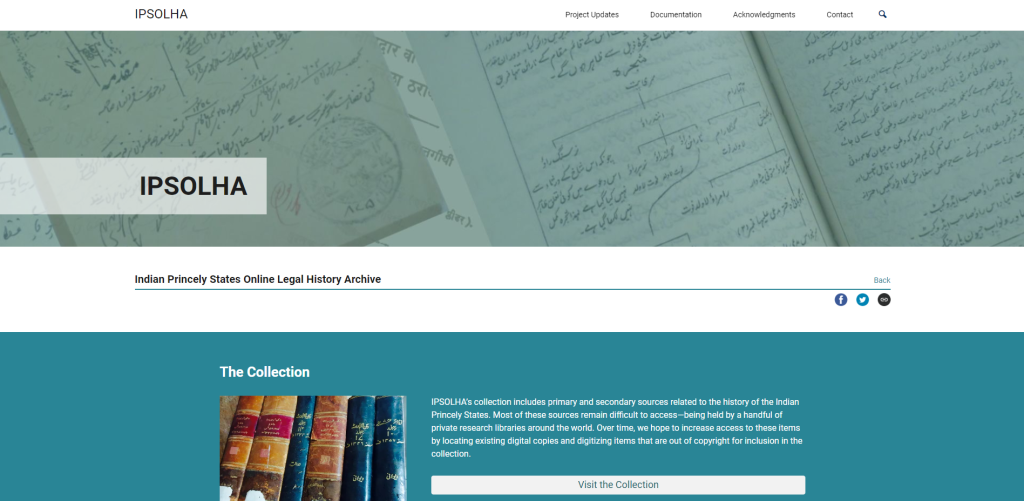 The Indian Princely States Online Legal History Archive (IPSOLHA) is an online archive for primary and secondary sources related to the legal and administrative history of the Indian Princely States started in 2021. Originally sponsored by the Society of Fellows of Dartmouth College, and a Digital Scholarship Grant from the American Institute of Indian Studies Digital Learning Initiative, the project later received support from the Department of History and Information Technology & Consulting at Dartmouth College as well as the South Asia Open Archives (SAOA) at the Center for Research Libraries.
"During the period of British colonial rule, there were hundreds of semi-sovereign, semi-autonomous states across the South Asian subcontinent. (…) these states (…) were incubators for innovative legal, administrative, and political ideas and offered a unique counterbalance to the hegemony of British rule. Yet despite their unique history, studying these states is complicated by the scattered nature of their archival remains."

'About the Project', IPSOLHA
The main objective of IPSOLHA is to make the archives relating to these Princely States ,more easily accessible by identifying, cataloguing, and digitizing them when possible to support the legal and administrative history of the Indian Princely States. At the time of our visit, the database included the description of more than 3,000 individual documents, and future efforts will focus not only on continuing to enrich the database with new materials, but also on promoting it as a research tool starting with a series of presentations by Elizabeth Lhost, principal investigator.
The Indian Princely States Online Legal History Archive proposes eight categories based on resources types to browse the collection: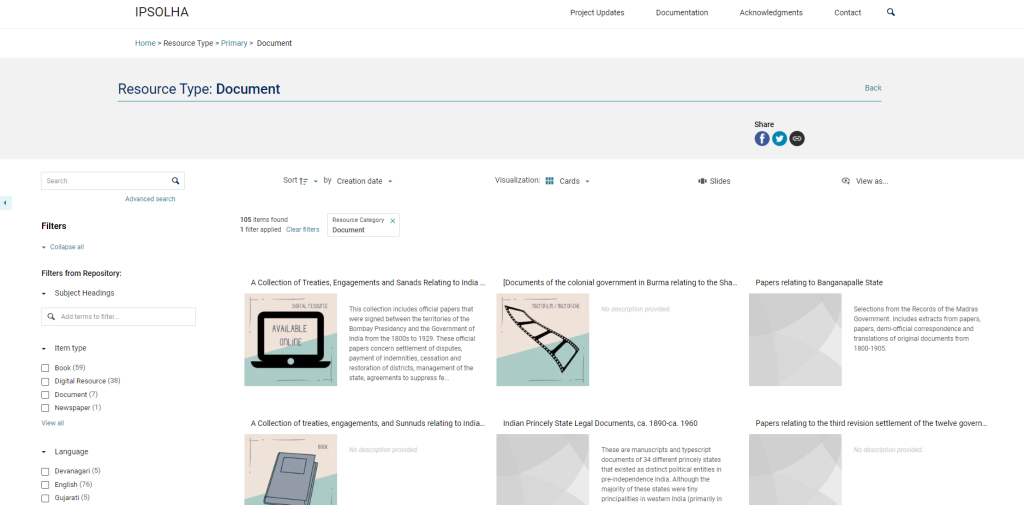 Each category displays a list of sources -in a customizable view- some of which accessible online, others to be consulted on site at their holding institution. The left-hand side menu allow visitors to filter results by Subject Headings, Document type, Language, State, and Holding Institutions.
Specialists will particularly appreciate that documents in many languages (English, Gujarati, Hindi, Hindustani, Punjabi, Sanskrit, Urdu, etc.) are included in the database, and that Princely States are identified for each source.
For each item listed, IPSOLHA provides a lengthy description including Subject Headings and Type of resource tags allowing to navigate documents within the database (Main & IPSOLHA tabs), and instructions for accessing the materials (Access tab):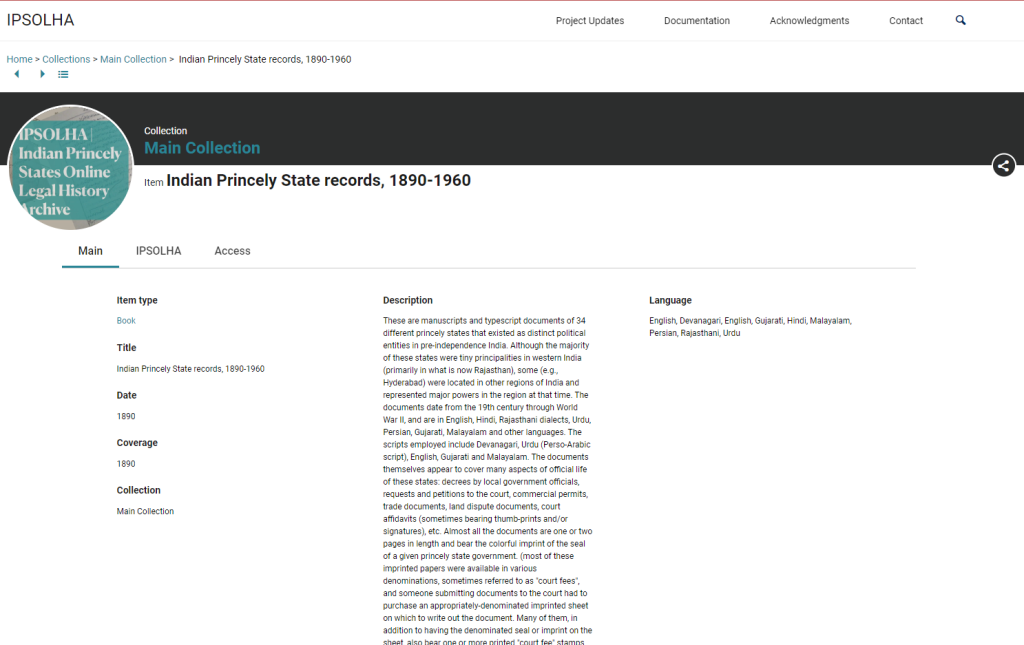 Interested scholars can get in touch with the project team at ipsolha [at] gmail.com, use the Contact form, or follow updates on Facebook, Twitter.