OPenn contains complete sets of high-resolution archival images of cultural heritage material from the University of Pennsylvania Libraries and other institutions, along with machine-readable descriptive and technical metadata.

All materials on OPenn are in the public domain or released under Creative Commons licenses as Free Cultural Works. Materials are free to download and use under the license assigned to each document. OPenn encourages that whenever possible, to cite the website and the holding institution when material are used. Many of the manuscripts on OPenn were digitized through grants and awards from public and private donors.
The data on OPenn is intended for aggregators, digital humanists, and scholars. Many of the images here are available via more user-friendly page-turning applications on institutional websites. OPenn regularly adds new repositories and new documents in order to bring more data to the public. Check back often to see what's new.
Manuscript descriptions
Manuscript cataloging incorporates not only the identification of the author, title, date of origin, and provenance, but also, detailed descriptions intended to aid the palaeographer, codicologist, art historian, historian, and philologist. A description of the manuscript cataloging, with technical and non-technical detail, is given in the Technical ReadMe document.
Contents
Documents: the images of these documents are accompanied by detailed manuscript descriptions in machine-readable TEI format.
Images: there are three types of images  are delivered for each manuscript element.
Repositories
An OPenn repository is a group of documents belonging to a single institutional collection, all having the same metadata format. OPenn hosts 40 repositories from different institutions, including the University of Pennsylvania several repositories.
Curated Collections
An OPenn curated collection is a group of documents belonging to one or more repositories. A curated collection allows for the grouping of items by topic, theme, or project and may not have the same metadata format. OPenn hosts 5 curated collections:
Searching
OPenn utilizes standard Google searching techniques such as exact match, combine two search using AND/OR, excluding terms using -, etc. A simple search using keyword: prayers in OPenn search will look like this: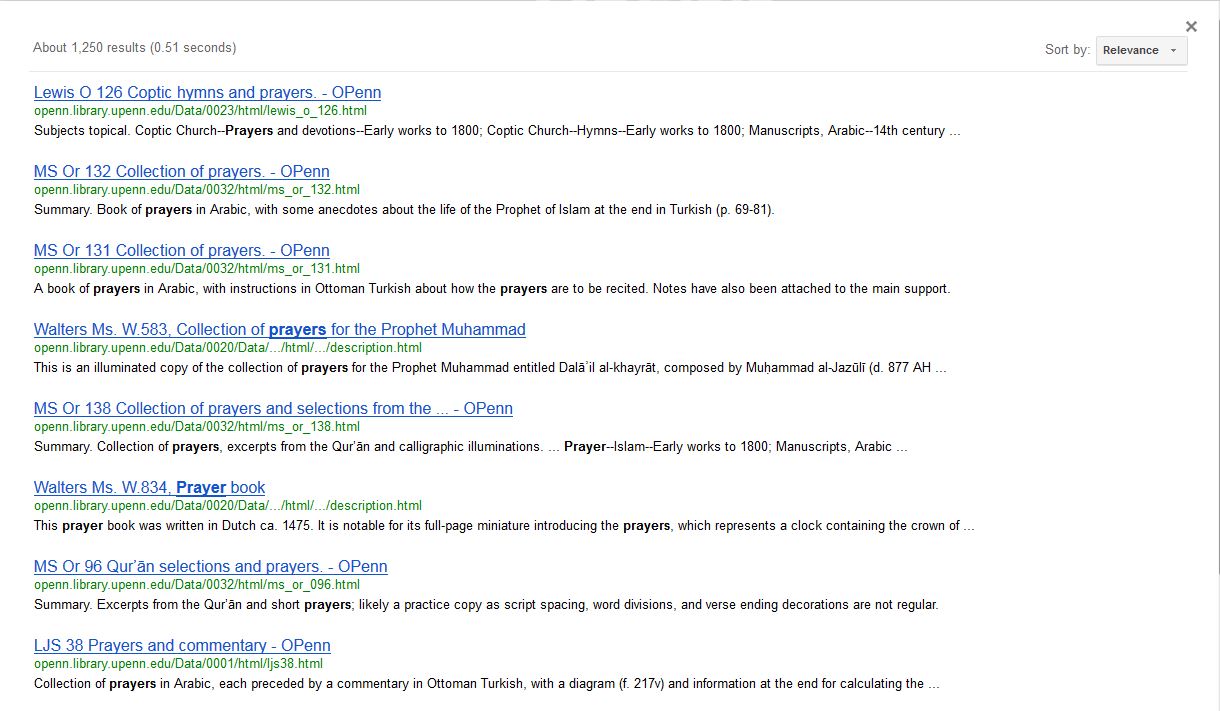 For additional information concerning licenses and use, citation style, alternate access methods and other technical stuff are all available in the OPenn: Read Me.