The David Collection is a museum of fine and applied art in Copenhagen, Denmark, built around the private collections of lawyer, businessman and art collector C. L. David.
The museum is particularly noted for its collection of Islamic art one of the largest in Northern Europe. The collection of Islamic art contains works from almost the entire Islamic realm, from Spain in the West to India in the East and dating from the 7th to the 19th centuries.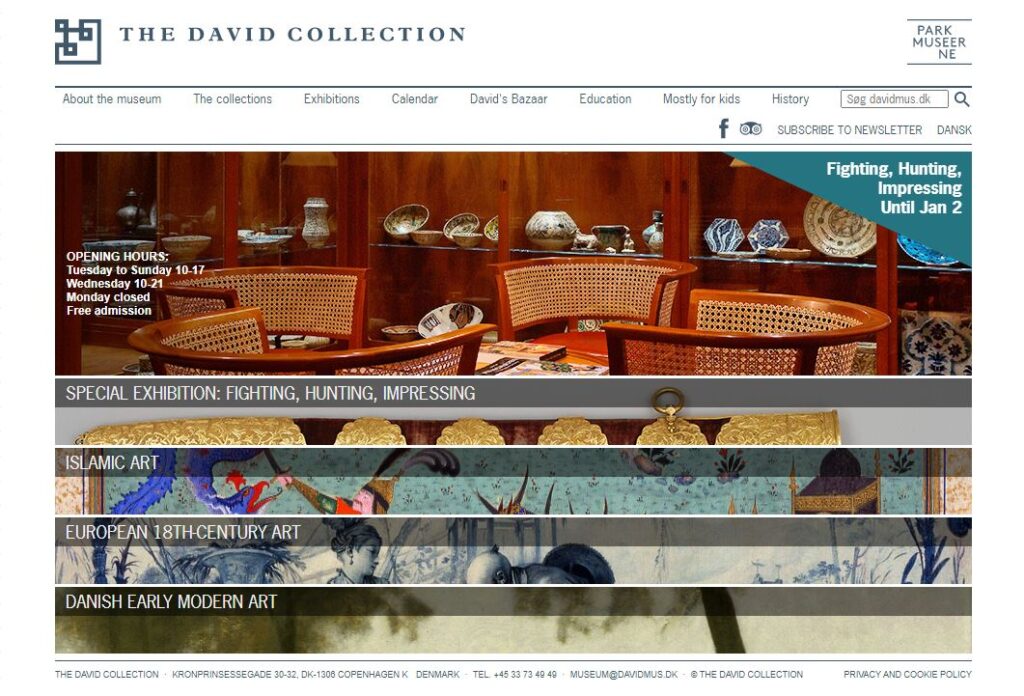 Islamic Art Collection
The Islamic works of art are presented from three different perspectives: Islamic art organized chronologically and geographically, Islamic art grouped according to material, and Islamic art presented in its cultural context.
Dynasties and Geography

The works of art here are divided into 20 sections according to specific epochs and dynasties and according to different geographic regions. Each of the 20 sections provides a historical introduction, a map, a selection of works of art, coins, and architecture.
Materials
The objects are categorized into eight different groups. This makes it possible to see how both stylistic features and techniques were developed within a specific medium both over time and across geographical borders.
Calligraphy / Miniature Painting / Ceramics / Glass / Stone and Stucco / Ivory, Wood, and Papier-mâché / Metalwork, / Weapons, and Jewelry / Textiles, Carpets, and Leather
Cultural-history Themes
Focusing specifically on the cultural background for art in the Islamic world, this section illustrates fourteen themes of special relevance. Each theme is illustrated with a selected group of objects, accompanied by an explanatory text.
Islam, the Religion \The Five Pillars of Islam \ The Prophet Muhammad \ Mecca and the Kaaba \ Sunni and Shia \ The Mosque \ The Religious Prohibition Against Images \ Symbolism in Islamic Art \ Islam in China \ Sufis \ Dervishes, and Holy Men \ Trade, Measures, and Weights \Mechanics, Astronomy, and Astrology \ Medical Science \The Art of War