Anwar El-Sadat Digital Archive is a collaborative effort between The International School of Information Science (ISIS) and the Special Projects Department at Bibliotheca Alexandrina.
The project compiles all the material pertaining to the late President Anwar El-Sadat in a digital archive documenting an important epoch in the discourse of Egyptian history.
The Archive provides information on the life of late President Mohamed Anwar El-Sadat to historians, politicians, and researchers who are interested in analyzing and studying one of the most important transitional periods in Egyptian history.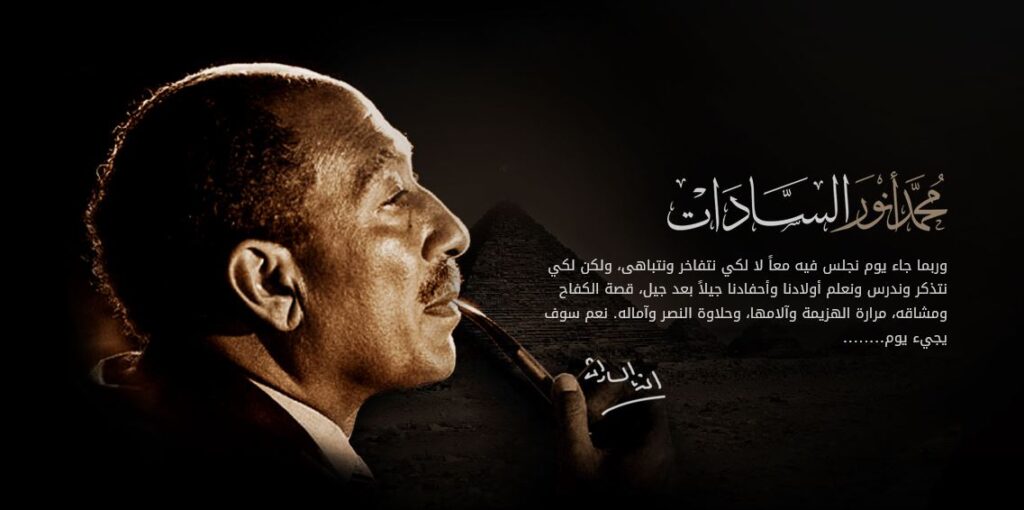 The Archive is divided into three main areas and each area is further subdivided
El-Sadat's Life
El-Sadat's Archive
Journalistic Perspective

El-SADAT'S LIFE
In this section, one can explore facts and archival materials related to the early life of El-Sadat, his political life, after 23 July Revolution, his presidency, donated collections and his famous quotes. An internal link is made available to El-Sadat's Museum that is housed in Bibliotheca Alexandrina.

In addition to the above, El-Sadat's life includes books and articles that he wrote during the revolution and after he became a president.
El-SADAT'S ARCHIVE
This section is divided into six collections:
The speech collection contains 1116 letters, words and text statements by President Mohamed Anwar El-Sadat.

The photo collection and for the first time, this number of rare El-Sadat related are displayed on the Internet, close to 20,000 photos

The video collection contains more than 317 videos, in which President El-Sadat appears, ranging from talk shows, news reports and documentaries.

The documents collection includes more than 970 Egyptian and American documents, some of which are rare documents in addition to documents in the President's handwriting.

The audio collection is compilation of audios by President El-Sadat. This collection contains 44 audio tracks.

The press collection contains 7814 press items, ranging from news, reportage and articles that goes back to the period of the late President El-Sadat

JOURNALISTIC PERSPECTIVE
Televised interviews, this section is devoted to all television interviews and letters available of President Mohamed Anwar El-Sadat in an attempt to highlight how he dealt with the Arab and Western media and how he approached and handled its challenges.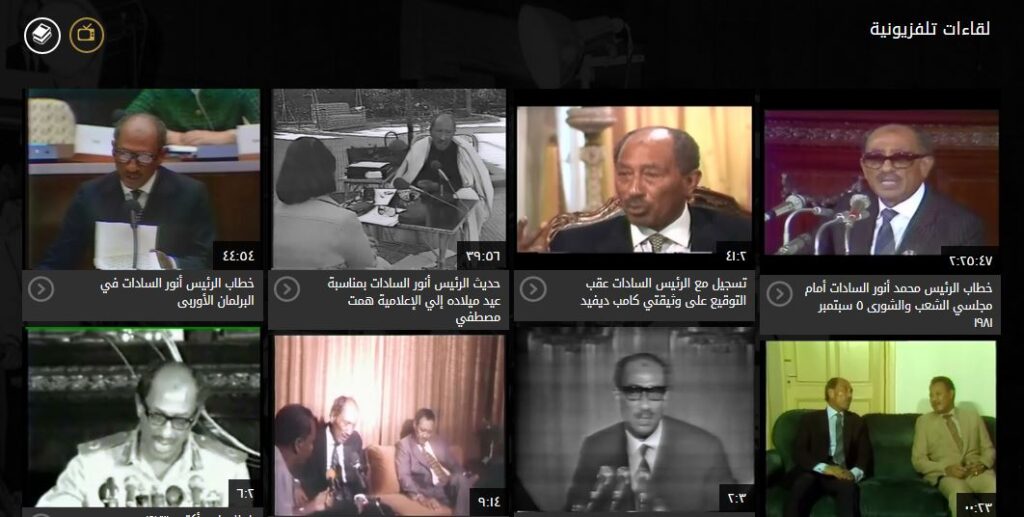 The project team has collected most of the book covers that talked about the era of President Anwar El-Sadat as an assistant to the researcher to reach a better understanding of El- Sadat's story in both its human and political aspects.
Anwar El-Sadat Digital Archive materials were compiled from different sources, such as news agencies, museums, various other institutions, and a collection graciously granted by the late President's family. The database was published on the Internet with tools and features that facilitate easy navigation through the website. It is important to note that the archive is available only in Arabic.
The digital archive also enables users and researchers to perform comprehensive searches among the different sections and categories of data.