The Aga Khan Library, London houses invaluable resources for Islamic studies produced in different regions and different periods of the Islamic world. The collection of rare materials consists of manuscripts, artworks, out-of-print publications, photographs, and maps, a wide range of research materials on the history, politics, customs, and beliefs. In addition to these materials, the Aga Khan Library is a current custodian of several research collections and personal archives donated by acclaimed scholars in the field of Islamic studies.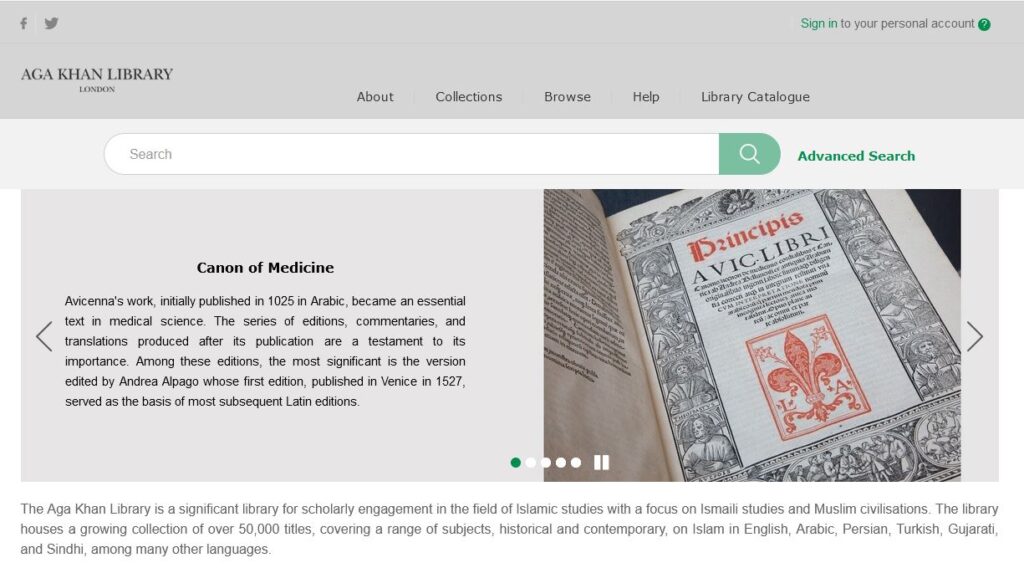 Aga Khan Library Digital Collections offers a digitized copy of some of the rare books in the Aga Khan Library, London. Therefore, becoming a member of the library will grant members a full access to the library collection. It is also possible to create a personal account for nonmembers, which will allow users to save books, chapters, images or other items to view later, organize saved items into folders, email and export citations and save searches.
"The Digital Collections platform is a significant milestone in the services of the Aga Khan Library to promote scholarship on Islam, past and present. The platform also supports the Aga Khan Library in its essential role as a facilitator of teaching and research at the Institute of Ismaili Studies, and the Aga Khan University Institute for the Study of Muslim Civilisations, its parent institutions."
Digital Collections
There are 109 items available for browsing, mainly in Ottoman Turkish Language and mostly published in Turkey. Disciplines include history, archeology, linguistics, literature, law, religion and mythology. Highlights of the collection include Osmanlı Tarihi, an encyclopaedia of Ottoman History; and Türkçülüğün Esasları, Principles of Turkism, a work published in 1923 by Ziya Gökalp.
There are 62 items available for browsing, chiefly in Arabic and some in Gujarati and other languages, mostly published in India. Disciplines include Religions, Mythology, History, Archeology and Literature. One of the highlights of the collection include works by the renowned Persian poet and traveller, Nasir-i Khusraw (d. 1088), and a large holdings of devotional hymns known as ginans attributed to Ismaili Pirs in the Indian sub-continent.
Professor Avery (1923–2008) was an eminent scholar of Persian history and literature. His collection contains thousands of volumes including manuscripts, lithographs, and many rare and out-of-print titles in Persian, English, and Arabic, some dating back to the early 18th century. There are 2 items available for browsing at the moment.
Muhammad Abduh
A collection of books and holograph manuscripts casts a light on Muhammad Abduh (1849–1905) will be available soon. He was a crucial figure in the intellectual history of Egypt and the Muslim countries.
There are multiple ways of navigating the content: The main Search box in the header or the advanced Search; search by keyword with date range; search using combinations of author name, title, category, date range, or identifier.
Users can print and download individual images. All use of the site content is subject to Terms and Conditions, printing and saving should be for personal use, and standard copyright restrictions apply regarding unauthorized copying and distribution.