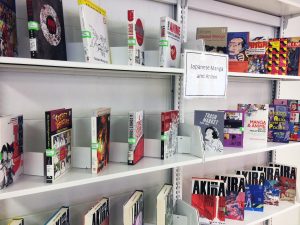 Manga means the Japanese term 漫画, referring to Japanese comics/cartoons created in Japan as early as 19th century. Since the 1950s, manga has steadily become a major part of the Japanese publishing industry.
Manga has been popular in North America for more than thirty years, since the first full-length manga stories were translated in America in 1987. During the past several decades, Japanese manga has attracted a great number of readers in many countries, especially among young people.
McGill students have great interest in courses related to Japanese popular culture such as Japanese cinema, manga and animation. Each term more students have registered for such courses than the classes could accommodate. To meet the needs of teaching, learning and research, our library has developed a strong collection in this field.
This display will highlight books by two famous Manga artists. Katsuhiro Otomo, is the most famous Japanese manga artist, screenwriter and film director. He was decorated a Chevalier of the French Ordre des Arts et des Lettres in 2005, promoted to Officer of the order in 2014, became the fourth manga artist ever inducted into the American Eisner Award Hall of Fame in 2012, and was awarded the Purple Medal of Honor from the Japanese government in 2013. Osamu Tezuka (1928-1989), another well-known Japanese manga artist, cartoonist, animator and film producer, was innovative in redefinitions of manga genres and was referred as "the father of manga", or "the god of manga."
The display will be up the entire months throughout March and April, so please take a break and browse the shelf. Just feel free to pick a book from the shelf and check it out!