Persian Heritage Magazine is an independent, non-political, non-governmental publication first published in 1996 by Shahrokh Ahkami, the Editor.
Persian heritage is a quarterly publishing magazine about culture and history of Iran. It is trying to respond to its readers' need -Iranian outside of Iran- by keeping them informed with update information on the richness and diversity of Iranian culture and heritage, as well as to facilitate inter-cultural interaction by reaching to those non-Persians yet interested in Persian heritage.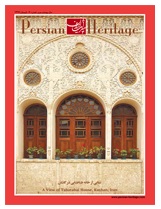 Therefore every issue of the magazine is being published in Farsi and English and covers various topics from Arts and culture (miniature, poetry,etc.) to prehistoric findings in Iran as well as reviewing recent exhibition in or about Iran's history and culture.
This magazine is published by Persian Heritage, INC. The online version is freely accessible.